Why to buy ProSmoke
#1 Rated Product
No tar or carbon monoxide
We use VG NOT PG
85% Saving over cigarettes
Longest lasting cartridges
Smoke anywhere anytime
Most vapor in the industry
Best Customer Service
Located in the U.S.A.
Best tasting flavors

ProSmoke For the Cure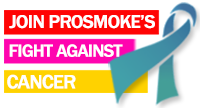 ProSmoke is proud to be a monthly contributor to multiple Cancer Charities.
Contributions are used for research and finding the cure. Get involved today!

Company Certifications

Green Certified Business
Nevada Smokers Spend Over a Million In a Lifetime (29 January)

Over a lifetime of smoking, typically a pack a day, smokers spend approximately $1.3 million on tobacco products. Governor Brian Sandoval proposes action that could possibly increase the number of smokers, yet increase the price per pack.



WARNING: This product is intended for use by persons 18 or older, and not by children, women who are pregnant or breast feeding, or persons with or at risk of heart disease, high blood pressure, diabetes, or taking medicine for depression or asthma. If you have a demonstrated allergy or sensitivity to nicotine or any combination of inhalants, consult your physician before using this product. This product is sold purely for recreational purposes - it is not a smoking cessation product and has not been tested as such. You must be over the legal age in your state to buy or use this product.

Nicotine is highly addictive and habit forming. Keep out of reach of children. This product contains Nicotine, a chemical known to the state of California (Proposition 65) to cause birth defects or other reproductive harm. No statements made on this site have been evaluated by the Food and Drug Administration. This product is not intended to diagnose, treat, cure, or prevent any disease