Welcome to the ProSmoke Electronic Cigarette Blog and News Section. Here you can find the latest industry news, ProSmoke Coupons and contests, ProSmoke News, and everything else important related to electronic cigarettes! If you see something you like, please be sure to click the share link and send it to your friends and colleagues!
Starting this Black Friday, November 29, ProSmoke Electronic Cigarettes, the industry leading producer of electronic cigarettes, is giving the industry's biggest savings on every single purchase made until the end of November.


Wednesday, 27 November 2013

ProSmoke Electronic Cigarettes, the #1 rated & best electronic cigarettes on the market, has joined the ranks of Amazon.com, Newegg.com and Wal-Mart to be part of an elite group to offer month-long "Black November" specials to consumers who don't want to wait for Black Friday weekend to take advantage of special deals.


Saturday, 02 November 2013


ProSmoke, one of the leading producers of electronic cigarettes, is launching a new Facebook sweepstakes that allows users to get a brand new disposable e-cigarette just by "liking" the Facebook page.


Friday, 23 August 2013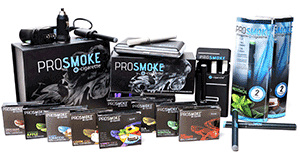 ProSmoke Electronic Cigarettes, the company frequently rated as the best e-cigarette on the market, have successfully tested their new e-cigarette products in retail for six months with amazing results. In the six-month market study, 98% of customers indicated they preferred ProSmoke e-cigarettes to the competition. Additionally, 81% of customers would return to the same store to buy ProSmoke electronic cigarette products again.


Thursday, 20 June 2013

ProSmoke Electronic Cigarettes, the industry leading tobacco alternative, is pleased to announce they have implemented company training using the "We Card"® Training Program, a nationally recognized sales training and education program designed to help prevent underage access to tobacco products and other age-restricted products.


Tuesday, 18 June 2013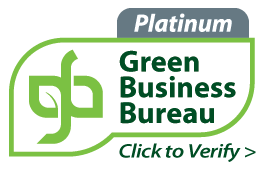 ProSmoke is the now the only company in the industry to be certified by the Green Business Bureau. This distinguished honor is only given to companies that are both environmentally responsible and commercially beneficial to the environment and society.


Thursday, 18 April 2013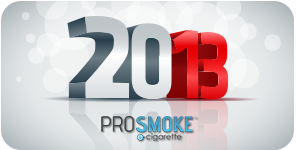 Did you resolve to quit smoking cigarettes in 2013? E-cigarettes are NOT a quit smoking device and have not been tested as such. Although not a quit smoking device, ProSmoke Electronic Cigarettes are the industry leading tobacco alternative. And now, you can switch to electronic cigarettes for even less with ProSmoke's New Year's Resolution coupons.


Wednesday, 02 January 2013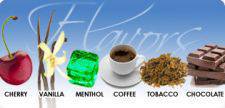 ProSmoke Electronic Cigarettes, the industry leading e-cigarette system, is pleased to introduce their ColorID™ System, an industry exclusive feature that identifies e-cigarette cartridges on the outside of the cartridge pack with a uniquely colored cork for each flavor.
Wednesday, 01 August 2012