Why to buy ProSmoke
#1 Rated Product
No tar or carbon monoxide
We use VG base NOT PG
Up to 80% Savings vs. cigs
Longest lasting cartridges
No Smoke Only Vapor
Most vapor in the industry
Best Customer Service
Located in the U.S.A.
Best tasting flavors

ProSmoke For the Cure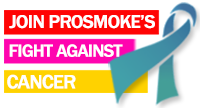 ProSmoke is proud to be a monthly contributor to multiple Cancer Charities.
Contributions are used for research and finding the cure. Get involved today!

Company Certifications

Green Certified Business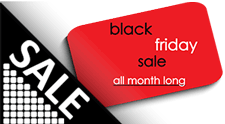 ProSmoke is excited to continue the month long Black November savings with some amazing new specials! If you haven't heard, ProSmoke has joined the ranks of Amazon.com, Newegg.com and Walmart to be part of an elite group to offer month long specials to consumers who don't want to wait for Black Friday weekend to take advantage of special deals.

Black Friday might be November 29nd, but in appreciation of the holidays and our customers, ProSmoke has decided to offer incredible deals all month long. Our pre-Black Friday deals start immediately and gives you the opportunity to avoid long lines, cold weather and receive huge savings immediately!

$15.00 off all starter kit purchases over $100.00 with coupon code BlackNov3

$5.00 off all cartridges, disposables and accessories over $50.00 .BlackNov4

We continue to expand our product line with innovative products, flavors and accessories.

Check out our new disposables, and start shopping today!

Friends, Family and even strangers who buy ProSmoke with your referral earns you money! Sign up and earn $25 for free and start spreading your special ProSmoke web address to earn commissions on every single sale!

Sunday, 17 November 2013



WARNING: This product is intended for use by persons 18 or older, and not by children, women who are pregnant or breast feeding, or persons with or at risk of heart disease, high blood pressure, diabetes, or taking medicine for depression or asthma. If you have a demonstrated allergy or sensitivity to nicotine or any combination of inhalants, consult your physician before using this product. This product is sold purely for recreational purposes - it is not a smoking cessation product and has not been tested as such. You must be over the legal age in your state to buy or use this product.

Nicotine is highly addictive and habit forming. Keep out of reach of children. This product contains Nicotine, a chemical known to the state of California (Proposition 65) to cause birth defects or other reproductive harm. No statements made on this site have been evaluated by the Food and Drug Administration. This product is not intended to diagnose, treat, cure, or prevent any disease