The ProSmoke Electronic Cigarette Super Starter Kit includes the hardware from the standard starter kit, a Portable Carrying Case, and FOUR total packs of refill cartridges! Save money and start your electronic cigarette experience with the purchase of the ProSmoke E-Cigarette Super Starter Kit!

ProSmoke is the #1 rated electronic cigarette on the market! This is because of its long life "smart" battery, cartridge size, and massive amounts of vapor. Our electronic cigarette is about the length of a traditional cigarette; giving you all the familiar comfort in size of a regular smoke with tons of vapor and an extra-long life battery. The ProSmoke electronic cigarette has no on or off switch and is always ready to go; it doesn't turn on until you inhale on the unit.

Read on to see what makes us #1.


Low Resistance Atomizer:

The ProSmoke Electronic Cigarette has a quality, solid built atomizer with porcelain reinforcement. This means it will last MUCH longer than other electronic cigarette brands.
The atomizer is a low resistant atomizer, which means it will actually add warmth to the vapor and provide you with a more lifelike smoking experience. It will feel like a real cigarette!

Superb Quality:

The ProSmoke e-cigarette quality is beyond par. Everything about it down to the last detail is excellent. It works amazing, it's lightweight but it's solid. It is engineered to perfection and everything fits together perfectly like a puzzle.

Portable Carrying Case:

Get this custom case designed to carry your ProSmoke electronic cigarette in your pocket or purse! Designed to fit 1 fully assembled electronic cigarette and 2 ProSmoke cartridges or atomizers. Combine batteries, cartridges, atomizers, and components you need to keep you satisfied on the go! A definite must have for any electronic cigarette user.


Long Lasting Cartridges:

The ProSmoke e-cigarette cartridges last longer than any other e-cigarette in our class. We have almost doubled the capacity of a standard cartridge while keeping it the same size. If you are sick and tired of small cartridges, give ProSmoke a try, you won't regret it!

Hundreds of hours of research has gone into getting our solution perfect for our customers to ensure the best taste, safety, and consistency. Unlike most of our competitors, who use PG for the base of their solution, ProSmoke has opted to use VG; which we feel this ensures our customers are getting the absolute best e-cigarette solution on the market.
One of the best warranties on the market:

ProSmoke has a 12 month manufacturer's warranty! That's 365 days of warranty on the ProSmoke Electronic Cigarette; that's four times the typical smokeless cigarette.
ProSmoke is Rated the Number One
e-Cigarette for a reason:

With unsurpassed power in both its batteries and atomizers, the ProSmoke has been well established as the workhorse of the industry.

Combine that with a portable carrying case & four included packs of cartridges and that is equivalent to up to 35 packs of regular cigarettes and you have absolutely everything you need to start smoking electronic cigarettes today and carry them on the go!

What's an e-cig?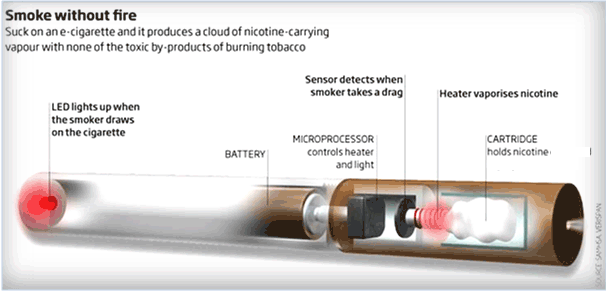 E-cigarettes are electronic devices that vaporize nicotine, water, and flavor to simulate the feel and look of cigarettes. Unlike nicotine gum or the nicotine patch, the e-cigarette actually functions much like a regular cigarette. However rather than burning and smoking, it vaporizes a solution that contains nicotine.
The nicotine is still delivered to the lungs, but in vapor form, rather than smoke which contains carcinogens and tar. ProSmoke E-cigarettes do not burn like a typical cigarette, yet feel the same and contain nicotine (optional).

Complete ProSmoke Electronic Cigarette, Components, and Accessories
| | |
| --- | --- |
| QTY | |
| 2 | Long-life lithium "smart" batteries |
| 1 | Atomizer |
| 1 | Portable Carrying Case |
| 4 | Flavored Cartridge Pack in the nicotine level and flavor of your choice! Each of the 4 packages includes 5 individual cartridges and in total is equivalent up to 35 regular packs of regular cigarettes! |
| 1 | U.S. Wall Charger |
| 1 | USB Charger |
| 1 | E-Cigarette Box |
| 1 | User Manual |

Options
Two beautiful, long lasting, endurance-coated, color options are available of All Black or All White. These colors are electro-statically applied, unlike most of our competition whom just use an aerosol paint, so that we provide you that colors that not only look great, but will last with the heavy use our customers give it. With elevated temperatures, travel, and even dropping it, you can rest assured, you have a coating that will endure as long as you want it!
All kits have a blue LED giving you a sleek look while remaining comfortable and as familiar as a regular cigarette.
Flavor Options

Awesome Apple

Very Cherry

Chocolate Indulgence

Coffee Jolt

Marvelous Menthol

Classic Tobacco

Vivid Vanilla

Variety Mix
Includes one cartridge of
Cherry, Coffee, Tobacco,
Menthol & Vanilla
ColorID™ Cartridges
ColorID™ is an industry exclusive, is used to keep your cartridges fresh as well as identify them when being carrying in a case, charger case, pocket or anywhere on the go! For those of you who are just getting started with electronics, this simply means that when you want to have multiple flavors with you and not carry a box for each one around, you can identify them quickly with a uniquely colored cork on each cartridge so it not only keeps your cartridges fresh longer, but lets you identify the flavor with a quick glance to satisfy those wanting taste buds! Learn more by clicking here.


ProSmoke is Rated the Number One
e-Cigarette for a reason:

With unsurpassed power in both its batteries and atomizers, the ProSmoke has been well established as the workhorse of the industry.

Combine that with a portable carrying case & four included packs of cartridges and that is equivalent to up to 30 packs of regular cigarettes and you have absolutely everything you need to start smoking electronic cigarettes today and carry them on the go!






Total Average Customer Rating (Based on 44 Reviews)
service
"
Great coustoner service
"
Good stuff!
"
This starter kit is a good package for the average person who's planning to be at a power outlet every evening to recharger their e-cig battery. The coffee flavor at 8mg is solid! Not exactly the flavor of coffee, but probably as close as one can get to the real thing. Throat hit at 8mg is good if you prefer ultra-light traditional cigarettes. Overall a good product!
"
Excellent
"
Excellent product. Tried others .. These are by far the best.
"
E-CIGAETTES
"
best e-cigarettes my wife and I have tried. We finally found a reliable brand that costs MUCH less than the others to get cartridges since they last pretty long only complaint is I wasn't really clear when to charge the battery at first
"
Best product on the market!!!
"
I use to spend A LOT of money on cigarettes! After doing plenty of research, I purchased this kit and started saving money immediately! The electronic cigarette along with the classic tabacco cartridge satisfies my cravings for the nicotine that I acquired thru my addiction to cigarettes. I have cut down my cigarette use to only a few a day, I use the pro smoke as my primary source for "smoking". If you're looking to switching, cutting down, or quitting cigarettes, this is definitely the product that will help! I highly recommend this product because I am extremely satisfied with it, their customer service is top notch too!!!
"
Love my new e-cig!
"
My super starter kit arrived today and I love it already. I have tried other e-cigs before but they do not compare to the quality of ProSmoke! I love that the e-cig came with 2 batteries (unlike my last one that only came with 1). I look forward to becoming an ex-smoker, but until I finally quit I will keep using my ProSmoke e-cig! Thank you so much for offering such a great product at a much lower cost and I love supporting American businesses!
"
ProSmoke
"
I started using ProSmoke e-cigarettes a month ago to get away from real cigarettes, and it has been a great success! After using ProSmoke for 3 days, I attempted to have a regular cigarette and couldn't, it tasted too disgusting. I have no desire to go back to smoking regular cigarettes anymore. ProSmoke itself has been a great company shipping quickly and accurately on everything, and their product is excellent! The e-cigarettes themselves taste more like hookah, with the potency of a cigarette, and menthol smokers should be aware that the marvelous menthol flavor tastes like mint, not really like menthol; which is perfect for the transition for everyone I think. Overall, I really enjoy ProSmoke and would recommend it highly to others!
"
Perfect Alternative to Cigarettes
"
I have been smoking Menthol ProSmoke for over a month and will not go back to regular cigarettes. They satisfy my craving for cigarettes and don't have the harmful ingredients of regular cigs. My only negative is that one don't last as long as a few packs of cigarettes. Even taking this into consideration they are still cheaper than cigarettes. I tried another brand of Ecigs and they were much harsher than the ProSmoke. I'm a user for life!
"