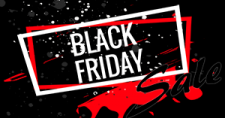 The Biggest Savings All Year Start Now For Black Friday

E-Cigarette users favorite sales are always Black Friday because ProSmoke gives you the biggest discounts you are going to find ALL YEAR LONG. You can get the #1 rated and absolute best e-cigarette products available.

There is no better time to buy yourself or your loved ones some award winning e-cigarettes and accessories from ProSmoke! Avoid the big crowds and long lines this weekend and pick up your e-cig products right away.

Our prices will never be lower!

Black Friday starts now and goes all weekend long. Get 30% off all of ProSmoke's award winning products.

These are the biggest savings all year and will not happen again! Use coupon code 'BlackFriday17' to save 30% all week long!

Get our biggest deals ever on the ProSmoke's award winning disposables. You'll get 50% off any disposable e-cigarette in our new frustration-free packaging.

Use coupon code 'BlackDisposable' to get 50% off all disposable purchases over $75.00 all week long!
Thursday, 23 November 2017