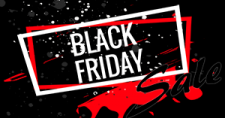 The Biggest Savings All Year Start Now For Black Friday

E-Cigarette users favorite sales are always the day after Thanksgiving, a.k.a. Black Friday. This year ProSmoke is helping you avoid that wait and giving you Black Friday Specials immediately, with absolutely no wait, free shipping* and big discounts.

There is no better time to buy yourself or your loved ones some award winning e-cigarettes and accessories from ProSmoke! Avoid the big crowds and long lines this weekend and pick up your e-cig products right away.

Black Friday starts now and goes all weekend long. Get 30% off all of ProSmoke's award winning products.

These are the biggest savings all year and will not happen again! Use coupon code 'BlackFriday16' to save 30% all week long!

Get our biggest deals ever on the ProSmoke's award winning disposables. You'll get 50% off any disposable e-cigarette in our new frustration-free packaging.

Use coupon code 'BlackDis16' to get 50% off all disposables all week long!
Wednesday, 23 November 2016