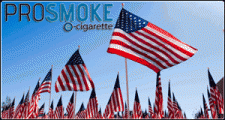 Independence Day Coupons and Savings!

To offer big savings for the fourth of July, ProSmoke is offering a special coupon for 10% ALL purchases until July 10th!
Whether you are buying a gift, your own award winning e-cigarette Starter Kit, or more, you save on every single kit for the summer! We also have new ProSmoke accessories!
Please enter ProSmokeJuly2011 in the coupon box at checkout for big savings!
Start shopping by clicking here!

Brand New ProSmoke Portable Charging Case...get one today!
| | |
| --- | --- |
| | The carrying case has its own internal battery that can charge your ProSmoke cigarette on the go with NO WIRES! You can charge up to 8-10 batteries before having to recharge the case with its built in USB connector. |

Check out more reasons why ProSmoke keeps getting rated Number One!
Headquartered, Assembled, and Tested in the United States

Our 40,000 square foot headquarters, manufacturing, testing and main distribution warehouse are located in Chicago, IL..We have one of the largest certified facilities in the industry and everything is assembled and tested here in the U.S. with strict certifications and more!

We use Vegetable Glycerin NOT Propolyene Glycol

One of the number one questions you can ask yourself when shopping for electronic cigarettes is "Do they use PG or VG?". We use vegetable based liquid as our main ingregedient unlike our competitors which main ingredient is used in makeups and radaitor fluid.
ProSmoke Recent News and Blogs
U.S. Postal Service Resumes Accepting Mail to Canada - ProSmoke
https://www.prosmokestore.com/store/index.php?_a=viewBlog&blogId=37
USPS has suspended postage shipment to Canada - ProSmoke Electronic Cigarettes
https://www.prosmokestore.com/store/index.php?_a=viewBlog&blogId=35
BestElectronicCigaretteReviews.net ProSmoke Review - Perfect!
https://www.prosmokestore.com/store/index.php?_a=viewBlog&blogId=36
Thursday, 30 June 2011