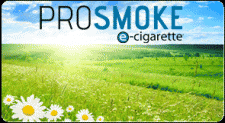 ProSmoke Summer Savings and Coupons!
To celebrate the arrival of Summer, we are giving 10% off all orders until July 1st! See how much green you can save by switching to e-cigarettes.
Whether you are buying a gift, your own award winning e-cigarette Starter Kit, or stocking up on cartridges, you save on every single item and stock up for summer! We also have new ProSmoke accessories!
Happy Summer from ProSmoke! Use coupon code 'ProSummer2011' at checkout!
A Must have for people on the go!


The ProSmoke portable charging case is smaller than the competition, holds more and lasts longer! It can hold 4 cartridges or atomizers and 1 battery and 1 completely assembled ProSmoke e-cigarette; Giving you all the stuff you need to keep your ProSmoke electronic cigarette charged for long trips and adventures!

The carrying case has its own internal battery that can charge your ProSmoke cigarette on the go with NO WIRES! You can charge up to 8-10 batteries before having to recharge the case with its built in USB connector.
Check out more reasons why ProSmoke keeps getting rated number one!
3 Piece Design Lasts Longer While Saving Money




2 Piece designs don't last as long and cost more to replace. Why replace an expensive piece of equipment that should be designed to last?

Our electronic cartridges

last longer than other similar products on the market! That's why you save up to 80% compared to traditional cigarettes.

We do not use Propylene Glycol

Our

cartridges

are not made with Propylene Glycol, an ingredient found in radiator fluid and makeup, as its base, the main ingredient in most of our competitors' products. We use Vegetable Glycerin and also have non nicotine options! It is known for producing the most vapor and not having a harsh "throat hit" like PG. It costs more to make but we feel it's the best for our clients!
Not applicable to previous purchases. No exceptions whatsoever. Limited to one coupon per customer.
Tuesday, 07 June 2011