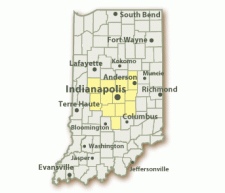 How certain states, such as Indiana, are handling the growth of e-cigs
Last week, the FDA announced their proposed regulations for the electronic cigarette industry. Many states have already begun implementing local regulations but others are not determining the best way to move forward for their state.
The Indiana State Department of Health is determining what, if any, additional regulations they will impose on electronic cigarettes and their usage within the state of Indiana. Other cities such as Chicago and New York have imposed their own additional regulations to the FDA's which many think are excessive. The usage of e-cigs indoors in both cities has been restricted and many businesses and users feel this is unfair since recent studies might show that there is no need for this concern.
Companies like ProSmoke proactively get involved to assist with local legistalations and are excited to work with the FDA in the coming months to develop sensible, fact based legistaltion, that keeps the publics health interests in mind, as well as local businesses.
------------------
Cigarette Companies Enter E-Cig Market
Cigarette companies, meanwhile, are investing in e-cigarettes.
The reasons make a lot of sense.
States have been increasing taxes on cigarettes and implementing outright smoking bans.
Meanwhile, e-cig sales brought in an estimated $1 billion last year and in many states, including Indiana, they're not nearly as regulated.
However, some states are taking some steps to increase oversight.
Many states are starting to include-cigarettes in indoor smoking bans. Others, have moved to define e-cigarettes as tobacco products so all the same laws that apply to cigarettes also apply to e-cigs, and California is restricting e-cigarette advertising online.
Indiana already bans the sale of e-cigs to minors, but Indiana Department of Health officials say they're waiting for the FDA to finalize its rules before taking any further steps to regulate the products or the companies that sell them.
Indiana is at the heart of the new market.
Cited Sources: http://indianapublicmedia.org/news/indiana-handling-sale-ecigarettes-66550/
----------------------
ProSmoke is one of the largest companies in the industry and is currently shipping their product in all 50 states and across the world, including Indiana. To shop for their e-cigarette products online here
Saturday, 03 May 2014