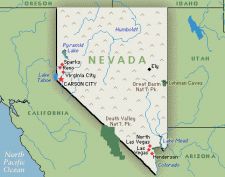 SOURCE: http://www.reviewjournal.com/news/nevada/average-cost-nevada-smoker-13-million
According to a personal-finance website, WalletHub, it has been announced that the average smoker in Nevada spends over $1.3 million over a lifetime, which includes a pack of cigarettes per day for many years, health care spending, income losses and other costs.
According to the U.S. Centers for Disease Control and Prevention , approximately 42.1 million Americans smoke: 400,000 or more of those smokers being Nevadans. As an effort to help Nevadans eliminate their smoking habits, Wallethub evaluated that the cost of smoking is $1.4 million for each U.S. smoker throughout their lives. Nevada's Governor Brian Sandoval adds to the cost of smoking by proposing a higher tax for tobacco, raising the cost of a pack from 80 cents to $1.20. Annually, this is assessed to add an extra $80 million per year for the state.
Wallethub also provides the chance for public health officials in Nevada to tell tobacco consumers that they can contact help for quitting by calling the toll-free call number: 1-800-QUIT-NOW. This will contact live counselors that can form a plan of action to end their addiction to tobacco.
Experts that no longer want tobacco in the life of society in general have a desire to aid in the good of people's health, rather than the economic effects tobacco has. The yearly cost on health care in Nevada totaled $1.08 billion, with state and federal tax adding to each household by an extra $796.
Maria Azzarelli, administrator of the Tobacco Control Program for the Southern Neveada Health District states, "Obviously we want smokers to quit because we want people to live longer, healthier lives… The fewer people who smoke, there's less secondhand smoke in the air, and that helps society as a whole."
WalletHug then formulated the research into categories:
- Tobacco costs: The mean cost of a pack of cigarettes in every state was combined to the interest income lost on the spending of tobacco.
-Related Health care costs: Data from the Center for Disease Control and Prevention showed the cost spend on smoking-related treatments, divided by the total number of adult smokers in each individual state.
- Income lost because of smoking-related causes: Smoking causes more people to be absent from work, resulting in lower productivity and lower income. This results in averaging an amount of 8 percent decline in the median household income.
-Other costs: A boost in the cost of a homeowners coverage premium and secondhand smoke exposure costs.
WalletHub discovered that the total amount per smoker in Nevada had been $1,325,116. The tobacco cost of a smoker in the state was $973,000. Health care cost was $135,602, income lost per smoker was $207,154, and other costs were $9,160.
Gov. Sandovals proposal would not merely be just to take smokers money, but as a way to push smokers to the realization of not having to spend their money on tobacco. This would also be an incentive for them to quit smoking.
Monica Morales of the state Division of Public and Behavioral Health claims "Nonsmokers subsidize smokers in Nevada because insufficient investment in prevention results in tobacco-related health care complications… That leads to high costs for everyone, including an estimated annual productivity loss of more than $150 billion." Health care costs that are covered by the state's Medicaid program amounts to $123 million.
Azzarelli says "The average person can take eight to 11 attempts to quit smoking, so it's something that's very difficult to do."
"The most effective government initiatives to lower smoking rates include raising the price of tobacco, smoke-free policies, mass media campaigns coupled with other interventions and cutting the out-of-pocket expenses for people trying to quit," Morales added.
Dr. Paul Michael, a chemical oncologist with Comprehensive Cancer Centers of Nevada, has spent more than 30 years treating the effects of carcinogens ignited by the use of tobacco products.
He says "Nicotine has all sorts of health risks, but all of the other compounds and elements in the smoke also pose numerous cancer risks… All those multitude of products beyond nicotine cause DNA mutations of the cells they come in contact with."
"Smoking affects the mouth, tongue, windpipe, bronchial tubes, lungs and even the bladder, because that's where all of those cancer-causing substances collect before being excreted from the body," says Michael.
"No regulatory agency will crack down on smoking in casinos even though secondhand smoke has been shown to cause cancer. Every year, 6,500 people die in the U.S. from secondhand smoke," he says. Michael continues to say ""The poor casino worker who doesn't smoke is puffing half a pack just being at work every day."
Compared to 1999, Nevada's smoker percentage had dropped from 31.5 percent of smokers to just below 20 percent.
On the positive side, the percentage of Nevadans who smoke has dropped to below 20 percent, according to the CDC. Nevada was considered the smokiest state in the nation in 1999 with a 31.5 percent smoking rate.
Azzarelli states "Some states use tobacco taxes for health programs or efforts to help people quit smoking, but Nevada's levy goes into the general fund… None of it goes directly to any health program in Nevada, much less a tobacco-cessation program."
"None of it goes directly to any health program in Nevada, much less a tobacco-cessation program," she said.
She also wanted to tell people that there could be hazards of using electronic cigarettes and vapor pens because they are not prescribed as a cessation product, such as patches, and they are also unregulated.
"Even those products that claim to have zero nicotine, many of them do contain nicotine," Azzarelli said. "Other substances that are documented cancer-causing agents are contained in the electronic cigarette juice."
"We don't know the long-term effects of using such products, but we do know that documented cancer-causing agents are in those products."
Thursday, 29 January 2015