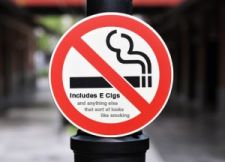 SOURCE: http://www.syracuse.com/news/index.ssf/2015/01/ny_would_ban_e-cigarette_use_in_restaurants_offices_under_cuomo_proposal.html
New York May Regulate More Than Just Electronic Cigarettes.New York May Regulate More Than Just Electronic Cigarettes.
Electronic cigarette use could be banned in several locations throughout New York such as restaurants and offices, if Gov. Andrew Cuomo's proposal is passed. Not only would the electronic cigarettes be banned, but it would also prohibit the use of flavored nicotine in the e-cigarettes. This would have the intention to limit the attraction of e-cigarettes to the youth.
E-cigarettes contain nicotine which turns into a form of vapor when used. Often times they contain rechargeable batteries, which where heat is produced. The chemicals that combine together turn into a smokeless and odorless vapor that manufacturers of the product commercialize by saying they could be used almost anywhere.
Manufacturers and others in the e-cigarettes industry would argue that their products are much safer than traditional tobacco cigarettes because they release vapor rather than smoke. This could also be a health benefit in aiding people to quit smoking. However, the health effects of electronic cigarettes are assumed to be unknown. They are soon to be regulated devices.
The federal Centers for Disease Control and Prevention claims that the use of e-cigarettes consumed by youths has increased between 2011 and 2013. The American Association of Poison Control Center reports a large number of cases of youths becoming ill from the liquid nicotine.
Cuomo had already signed a bill stating that liquid nicotine must be sold in childproof packaging.
Wednesday, 04 February 2015