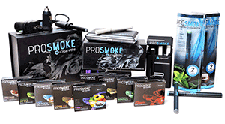 ProSmoke Disposable Electronic Cigarettes Offer Dependable Solution to Retailers Looking for Repeat Customers
Chicago, IL – June 14, 2013 – ProSmoke Electronic Cigarettes, the company frequently rated as the best e-cigarette on the market, have successfully tested their new e-cigarette products in retail for six months with amazing results. In the six-month market study, 98% of customers indicated they preferred ProSmoke e-cigarettes to the competition. Additionally, 81% of customers would return to the same store to buy ProSmoke electronic cigarette products again.
Electronic cigarettes are being covered more and more in the news with stories about Big Tobacco taking a serious look at entering the market soon. ProSmoke is one of the oldest companies in the industry and has used their market experience to design a product that not only benefits the customer, but also the retailer selling their disposable e-cigarettes. ProSmoke's retail packaging has been market tested and ranked the best in the industry for design and retail visibility. ProSmoke's new disposable e-cigarettes are designed specifically for the retail environment, with vegetable based ingredients, PET1 recycled materials, and attractive/informative packaging.
The electronic cigarette market is projected to double in growth this year alone. Furthermore, the electronic cigarettes industry has been estimated by analysts to be a multi-billion dollar market within three to five years. Unlike Big Tobacco who is just entering the electronic cigarette market, ProSmoke is an established industry leader with years of experience in manufacturing one of the best-rated products on the market.
"ProSmoke is well positioned as the best in the market, offering the most comprehensive e-cigarette solutions for retail success," said a ProSmoke representative. "In addition to providing a more realistic smoking experience and tasting better than other e-cigarettes brands available, ProSmoke gives customers the option to choose from two delicious flavors or save even more money with bundled packs."
ProSmoke's product is reliable, typically last longer than similar product, use vegetable based ingredients and recycled products, and have a lower cost of ownership; this allows customers to save up to 80% when compared to regular cigarettes and ensures repeat business. ProSmoke is the first and only company certified by the Green Business Bureau – giving retailers and customers the peace of mind that that are buying a product from an environmentally responsible company. The one-piece construction of ProSmoke electronic cigarettes eliminates breakable parts, and its Green Certification gives customers higher confidence in the product. ProSmoke can offer a dependable wholesale cigarette solution to retailers that will increase margins and keep their retail customers returning to purchase it again.
If you are looking to carry disposable electronic cigarettes in your retail store, chain, or wholesale products, join the ProSmoke distributor family today. For more information, please visit www.prosmokestore.com.
About ProSmoke Electronic Cigarettes:

Since 2008, ProSmoke has been dedicated to providing the best electronic cigarette products and a valued price point for consumers. It is the best alternative to traditional cigarettes and offers the most realistic experience, the most vapor, and best flavors at a cheaper cost than cigarettes.
Contact:
ProSmokeStore.com
855-PROECIG
[email protected]
Thursday, 20 June 2013