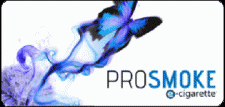 To celebrate the start of Spring, we are giving 10% off all orders until April 5th! See how much green you can save by switching to e-cigarettes.
Happy Spring from ProSmoke! Use coupon code 'ProSpring2011' at checkout!
Tastes like the Real Thing

Enjoy traditional flavors like Classic Tobacco or mix it up with our other delicious flavors that are sure to satisfy your taste buds!

The Industries Best Warranty!

We stand behind the quality of our product and guarantee our product for a period of one year from the original purchase date. To read more, check out the Shipping and Warranty section.

Monday, 21 March 2011