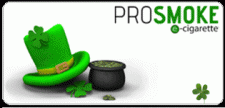 To celebrate St Patty's Day, we are giving 10% off all orders until March 25th! See how much green you can save just by switching to electronic cigarettes. ProSmoke saves up to 85% compared to cigarettes while continuing to "smoke"!
What makes you save so much money with ProSmoke?
3 Piece Design Lasts Longer While Saving Money

2 Piece designs don't last as long and cost more to replace. Why replace an expensive piece of equipment that should be designed to last?

Our electronic cartridges

last longer than other similar products on the market! That's why you save up to 80% compared to traditional cigarettes.
ProSmoke batteries and cartridges last longer than any other e-cigarette in its class.

There is no reason to carry around a large charging pack or handfuls of cartridges with ProSmoke; this is why we are better than the competition!
Happy St. Patricks Day from ProSmoke! Use coupon code 'ProSmokeGreen' at checkout!
Sunday, 13 March 2011