The ProSmoke Disposable E-Cigarette Tobacco Four Pack Bundle is The Best Way To Get Started With The New #1 Selling Disposable E-cig!

For smokers who like to save money or if you are a cigarette smoker and want to try disposable e-cigarettes as a tobacco alternative, it's just time to try electronic cigarettes and save by starting with a Bundle Pack! Our Tobacco flavored disposable e-cigarettes are an easy alternative to buying 8 PACKS of regular cigarettes and is absolutely the best quality e-cigarette on the market. Not only do our Tobacco disposable e-cigarettes last longer than the competition, but they cost less than regular cigarettes. You get 4 Disposable E-cigs which is equivalent to 8 total packs of regular cigarettes.
In addition to providing a more realistic smoking experience and tasting better than other e-cigarettes brands available, ProSmoke offers the most satisfying Tobacco flavor so that you can enjoy a similar smoking experience without all the tar, carbon monoxide, or any foul odors. If you smoke regular Tobacco cigarettes and are trying to decide if electronic cigarettes are for you, this is ta great bargain. Our disposable Tobacco flavored e-cigarettes have so much in common with our award winning electronic cigarette starter kits, built in to a simple package you can with no fuss.

Our Tobacco 4-Pack Bundled ProSmoke Disposable Electronic Cigarettes Feature
Rich Tobacco flavor that customers have come to expect from the regular cigarettes they smoke every day.

Equal to about EIGHT packs of traditional cigarettes. The ProSmoke disposable e-cigs make the perfect substitute to a regular pack of cigarettes.

Make your purchase and take it with you on the road. You do not need a lighter and it is ready when you are!

ColorID helps e-cigarette users know which flavor they are smoking just by looking at the filter color.

Real cigarette taste will keep you smoking electronics as a tobacco alternative every day!

ProSmoke is the only company Certified by Green America in the industry

Sturdy one-piece construction with no parts to break.

Holographic seal ensures your product is sealed and fresh for YOU to start smoking right away

Soft Tip and Filter give you the most realistic cigarette feeling available

Thousands of hours have gone into developing the smart battery and smoking experience just to ensure customers don't have to give up anything to enjoy an e-cigarette from ProSmoke.
What's a Disposable?

Disposable E-cigarettes are electronic devices that vaporize nicotine, water, and flavor to simulate the feel and look of cigarettes. Unlike nicotine gum or the nicotine patch, the e-cigarette actually functions much like a regular cigarette. However rather than burning and smoking, it vaporizes a solution that contains nicotine. The nicotine is still delivered to the body, but in vapor form, rather than smoke which contains tar, bad odors, and carbon monoxide. ProSmoke Disposable E-cigarettes do not burn like a typical cigarette, yet feel the same and contain nicotine.

Our Disposable Electronic Cigarette require no assembly and do not need recharging. ProSmoke Disposables are the ideal choice for first time electronic cigarette users that want to try them out before purchasing a full e-cigarette starter kit or those who want to simply pick up a disposable instead of a regular package of cigarettes. Since our disposable is equivalent to TWO packs of traditional cigarettes, this highly portable and easy soluion for smokers, is the right choice for anyone looking to pick up a disposable e-smoke today!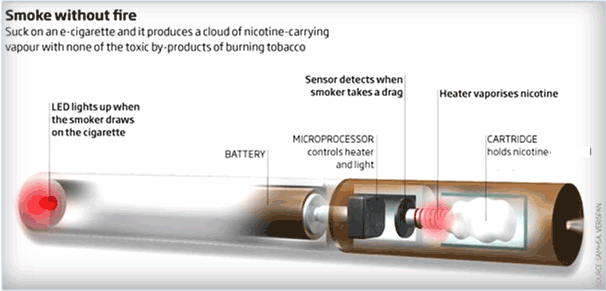 Take a step in improving your habit as thousands of our customers already have!
Have more questions? Check out our highly informative FAQ!

4 individual Disposable Electronic Cigarettes
All Classic Tobacco Flavor
ColorID soft tip/filter is Blue in color for Tobacco
Color is Black
LED battery tip glows blue during inhalation
1.8% Nicotine by Volume for each individual disposable e-cigarette. Equivalent to a level between Medium and High in our Traditional E-cigarette product.
Vegetable based e-liquid (Please note some flavorings will include minor amounts of PG for a more robust flavor and to serve as a preservative in retail envoirnemnts to keep your product fresh!)
Each individual cigarette is equivalent to about 2 packs of regular cigarettes!
*Retail Packaging Might Differ From Photos





4.8462 13 13 Total Average Customer Rating (Based on 13 Reviews)
More please
"
I will be buying more. These are excellent
"
Good size
"
These work well for me due smaller size and doesn't billow clouds of smoke. Can be used more discreetly around the office.
"
OMG!!!!!
"
Work every time! I hated getting dead disposables from blu, nu and logic and prosmoke is the only who has been reliable and works much better. I really you you guys keep this up! If so you have a lifelong customer.
"
ecigs
"
contacted you guys about how much i LOVE these. Keep upo the great work.
"
happy
"
Saw all the good reviews and wanted to try. I couldn't be happier. These things are GREAT. Low cost, big vapor and lasts sooo much longer than Blu's disposables or njoys disposables. Totally recommend
"
Much like
"
Much like yourself, I tried a cahpeer electronic cigarette and wasn't happy with the results, it actually broke a month after getting it. I have been using the ProSmoke succesfully ever since without any issues. Its also tons cheaper while performing better
"
Pro smoke disposable
"
I'm all for these. They last me a long time (several weeks each) and taste very good!
"
Pro Smoke it the best!
"
I am a long time smoker, thought these would not work, to my surprise they are great, love this brand, they are the best out there!
"
decent
"
Pretty good overall. Produces a lot of vapor.
"
just like a real cigarette
"
I loved the disposable ecig. It did last for a while. The feel is just like a real cigarette. When using it and blowing the vapor it's just like a real cig. I highly recommend pro smoke disposable ecig. I will surely order them again
"