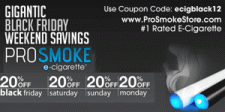 | | |
| --- | --- |
| The Biggest Black Friday & Cyber Monday E-Cigarette Weekend Specials Available! | November 2012 |

Save BIG on the #1 Rated ProSmoke Electronic Cigarette ALL WEEKEND LONG from Black Friday to Cyber Monday. The biggest savings available all year are available now!
Starting today, ProSmoke Electronic Cigarettes is giving the industry's biggest savings on every single purchase you make until Monday night. If you have ever considered switching to cigarettes as a Tobacco Alternative to traditional cigarettes or just need to restock on cartridges and accessories, there is no better time than now!
Be sure to check out our newest customer reviews on the e-cigarette customer reviews page and see how we stack up against the latest competition.

Expires November 27th, 2012

Use Coupon Code ecigblack12 for 20% everything.
E-Cigarette Rewards for all customers!

The best rewards program available in the industry. Every time you make a purchase through ProSmoke, you earn rewards Points.

You can also earn points by referring friends, posting honest online reviews of your positive experience with ProSmoke, and more.

ProSmoke Is The First & Only Green Certified Industry Company

ProSmoke is excited to be the first & only electronic cigarette company in the industry that is a Green Certified American Business. This certification exemplifies our dedication to being the top company in the market while continuing to provide the best e-cigarette products
Award Winning Deluxe Starter Kit

$109.99 USD

Try our updated and Bold Coffee Jolt

$9.99 USD

The Industry's Best Portable Charger

$19.99 USD

Brand New Awesome Apple is sure to please the craving!

$9.99 USD

Keep your e-cig safe on the go with a Portable Case

$12.99 USD

5 different flavors in our new variety pack w/ ColorID™

$9.99 USD
ProSmoke Electronic Cigarette
W: www.ProSmokeStore.com
© 2012 ProSmoke. All rights reserved.

Not applicable to previous purchases. No exceptions whatsoever. Limited to one coupon per customer. Coupons cannot be combined and are limited to one per customer and purchase.


Thursday, 22 November 2012





"UMM HECK YEAH! New e-cigarette here I come!"
Nov 23 2012, 03:33 AM
by Anonymous