This is a must have accessory for people on the go! Charge your batteries without having to worry about cables or being by a computer or power outlet.
The ProSmoke portable charging case is smaller than the competition, holds more and lasts longer! It can hold 4 cartridges or atomizers and 1 battery and 1 completely assembled ProSmoke e-cigarette; Giving you all the stuff you need to keep your ProSmoke electronic cigarette charged for long trips and adventures!
The carrying case has its own internal battery that can charge your ProSmoke cigarette on the go with NO WIRES! You can get 5 - 10 battery charges before having to recharge the case with its built in USB connector. If you "smoke" a lot or like to have a charger on the go, this accessory is for you.
The Portable charging case currently has instructions online via our site. To see those, please click here!
Please note that we currently backordered for this item. This is due to our two previous battery cell supplier closing its doors after a significant loss of business due to tariffs. We are currently locating a new provider and expect production on the new cases to start later in 2024. If you want a case immediately, we recommend the portable carrying case which still allows you to carry your main e-cig components and cartridges while on the go. Orders will be marked as processed and shipped and fulfilled in 2024. Please check out our portable carrying case now or contact us at any time to receive an update on your shipping date!
We have also switched to fully green packaging. This means it will be shipped in a plain box, with no foam container for components, and continues our green initiatives for being environmentally friendly and maintain our Green Business Bureau Certification with minimal packaging.

Due to limited stock/inventory, color choices might not be honored for your purchase. This means you might get white or black components or cartridges.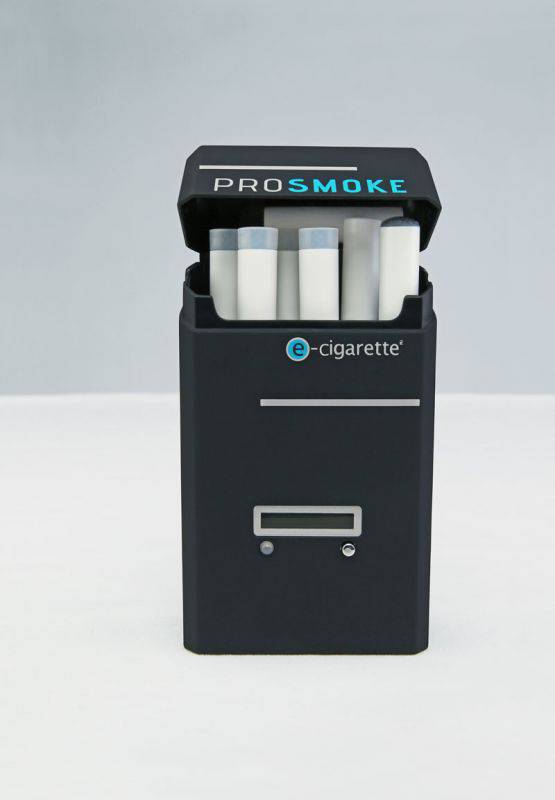 1 ProSmoke Portable Charging case and compatible USB cable.
Instructions for Personal charging case can be found here.





4.8929 28 28 Total Average Customer Rating (Based on 28 Reviews)
just a review
"
Works so much better than my 21st century
"
HOLY CRAP!
"
this is the PERFECT accessory. Customer service is great..recommendedddd
"
Charger Case
"
Beautiful! Case has a bit of a luxury texture - with grip. VERY convenient.
"
Personal Charger
"
This has to be one of the best ideas ever. Thanks. KPH
"
Goofd for on the go
"
This helps a lot when I travel for work!
"
easy to use
"
Super easy to use and great for traveling.
"
Personal Charging Case
"
Be prepared to do a full 8 hour charge. Holds 2 batteries and 4 cartridges or atomizer. Somewhat bulky to carry for ladies but fits into a man's pocket. 1 hour recharge. Digital charging display with battery life indicator. Red dot light indicates battery is charging. Smooth digital electronics. Pack lid is flimsy and may break off. 100% must have item to consistently smoke on the go. Can charge off laptop/PC via USB. Comes with USB cable. Quality product overall. I have 2 currently.
"
LOVE THIS ITEM
"
This case has made my life so much easier! I can charge my batteries on the go and the life on this case lasts a long time. I dont have to worry about my battery dying while out because I can always recharge it. This case is not bulky, is durable, and keeps my cartrages and cigarettes clean. Love this item!
"
Great Idea
"
I'm charging mine as I wright this review because I'll be traveling the next two days and having my case ready to go is important to me.The idea of a case that also scts as a power source is remarkable.
"
Must Have
"
This is a must have if you take this with you. I didn't get the starter kit with it and wished I had almost immediately. It's nice that you have the extra battery right there and can charge it without having to worry about an outlet. It's nice to have 4 spots for the extra carts. The carts are protected and I like it so I can switch up my flavors during the day.It keeps everything all together and it's similar to a regular pack of cigs so it's not cumbersome to carry it with you. Great product.
"