Get this custom case designed to carry your ProSmoke electronic cigarette in your pocket or purse!
Designed to fit 1 fully assembled electronic cigarette and 2 ProSmoke cartridges or atomizers. Combine batteries, cartridges, atomizers, and components you need to keep you satisfied on the go!
A definite must have for any electronic cigarette user.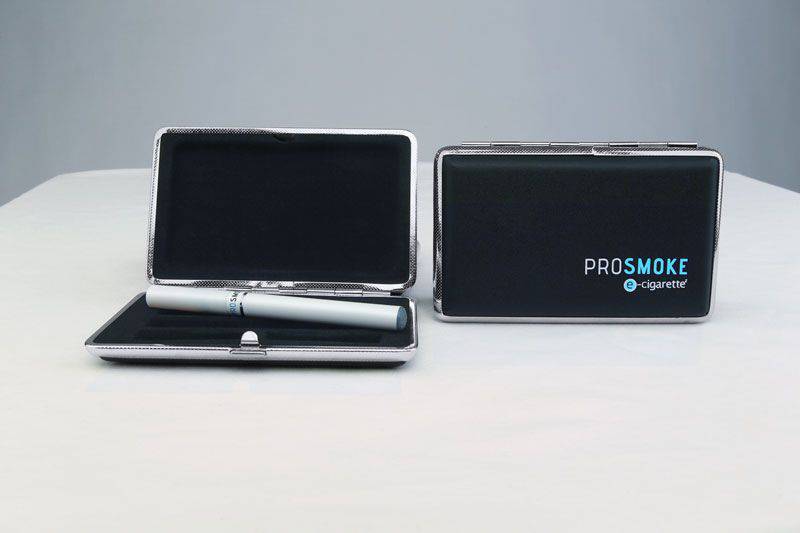 1 ProSmoke Portable Carrying Case for your ProSmoke electronic cigarette





4.9286 14 14 Total Average Customer Rating (Based on 14 Reviews)
sleeker than the charging case...
"
this case is handy for us ladies when we are carrying a purse/handbag that doesn't allow room for a regular size case (the size of the charging case) - thankfully it still has room in the case for a spare battery so theres no worries about running low on charge.
"
functional case
"
Perfect case. Carries everything you need. An assembled e-cig, extra battery and extra cartridge. The spaces are snug but hopefully will loosen with use.
"
Experence w/ProSmoke
"
I have been a smoker for over 50 yrs. I started prosmoke a month ago, it has been the greatest thing I've done in a long while. Thank you
"
Much better for us girls than the bulky charger pack
"
I was so excited when I saw this smaller size carrying case! The larger one that charges is bulky and seems masculine to me; I much prefer the smaller, more feminine case; although it would be nice to be able to use it for a charger, I find the more acceptable size more than makes up for it for me. I do wish there wasn't so much wasted space inside it though. Should have a place for at least 1 extra filter beyond the 2 it already holds. It is so nice to have 2 complete ProSmoke E-Cigarettes all charged up and ready to smoke!
"
Decent Case
"
This case does exactly what it is intended to do. It is sleek, and fairly sturdy. One thing I noticed is that the "cushioning" material that holds the e-cig tends to release a black dust when it is scratched inadvertently. Sometimes I find this dust on my e-cig and that is somewhat off-putting. I hope I'm not inhaling any of it! Otherwise, the case holds the e-cig components securely, and is a good buy
"
case
"
a little heavy.but good protection for 2 ecig's
"
Carrrying Case
"
I am very pleased with the carrying case. It is much easier to find my cigarette and great to have a fully charged battery, atomizer, and extra cartridge with me. I recommend this purchasing this case as it is much easier to keep up with your cigarette!
"
GREAT
"
A simple case that is small enough to fit in a shirt pocket or small purse. Not bulky and will carry everything you need for a night out without a charger. Cost is minimal and looks classy.
"
great accessory
"
nice to have for my purse!
"
this is a must have
"
Love this case! Great looking and keeps everything clean and handy. So glad I ordered this from the start. Mine holds a combo of two batteries plus a fully assembled e cig and three cartridges. Compact with lots of room. Dont hesitate to buy this its a must for convienence.
"