Welcome to the ProSmoke Electronic Cigarette Blog and News Section. Here you can find the latest industry news, ProSmoke Coupons and contests, ProSmoke News, and everything else important related to electronic cigarettes! If you see something you like, please be sure to click the share link and send it to your friends and colleagues!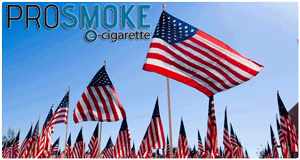 To offer big savings for those who honor and celebrate Memorial Day, ProSmoke is offering special coupons for 10% ALL purchases until June 6th!


Monday, 20 May 2013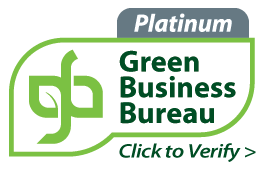 ProSmoke is the now the only company in the industry to be certified by the Green Business Bureau. This distinguished honor is only given to companies that are both environmentally responsible and commercially beneficial to the environment and society.


Thursday, 18 April 2013


ProSmoke's disposable e-cigarettes are designed to be the best e-cig for the retail consumer. After years of perfecting the electronic cigarette, ProSmoke is now offering disposable electronic cigarettes. Not only will consumers benefit from the high quality product, but retailers can be confident to partner with a company that can sustain the growth of the e-cigarette industry and provide a quality product.


Monday, 01 April 2013


Spring is here and to offer great savings to our customers as the weather warms, ProSmoke is offering special coupons for up 10% off purchases until April 7th!


Saturday, 23 March 2013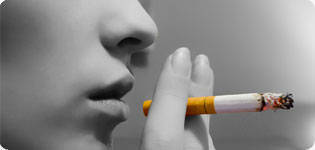 Electronic nicotine delivery systems (ENDS), also known as e-cigarettes, first appeared in China in 2003 and have since become popular around the world, particularly due to the Internet. E-cigarettes look a lot like traditional tobacco cigarettes, but they generate fewer toxins in the vapor for the smoker.


Thursday, 28 February 2013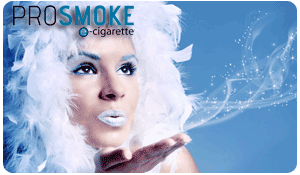 To offer great savings to our customers as the Winter Season continues, ProSmoke is offering special coupons for up 5% off purchases until March 10th!


Monday, 25 February 2013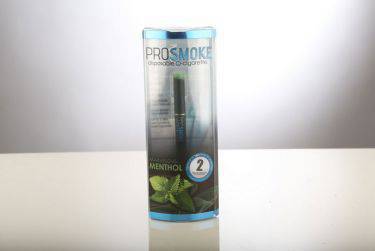 ProSmoke Electronic Cigarettes, the industry leading tobacco alternative, have has introduced new Disposable Electronic Cigarettes to their lineup of the best electronic cigarettes on the market.


Wednesday, 06 February 2013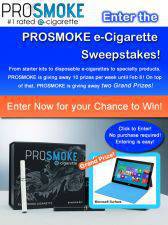 To kickoff CES 2013, the largest consumer electronics industry show in the world, ProSmoke, the #1 rated e-cigarette, is announcing an online Sweepstakes featuring the most advanced technology in specialty products like electronic cigarette starter kits and disposable electronic cigarettes. ProSmoke is offering 10 prizes per week, a second prize of a Microsoft Surface RT, and a grand prize of the highly anticipated Microsoft Surface Pro.
1 comment
Wednesday, 09 January 2013