The ProSmoke Electronic Cigarette Deluxe Starter Kit includes the hardware from the Standard Starter Kit, a Portable Charging Case, and FOUR total packs of refill cartridges! Save money and start your electronic cigarette experience with the purchase of the ProSmoke E-Cigarette Deluxe Starter Kit!

ProSmoke is the #1 rated electronic cigarette on the market! This is because of its long life "smart" battery, cartridge size, and massive amounts of vapor. Our electronic cigarette is about the length of a traditional cigarette; giving you all the familiar comfort in size of a regular smoke with tons of vapor and an extra-long life battery. The ProSmoke electronic cigarette has no on or off switch and is always ready to go; it doesn't turn on until you inhale on the unit.

Read on to see what makes us #1.


Low Resistance Atomizer:

The ProSmoke Electronic Cigarette has a quality, solid built atomizer with porcelain reinforcement. This means it will last MUCH longer than other electronic cigarette brands.
The atomizer is a low resistant atomizer, which means it will actually add warmth to the vapor and provide you with a more lifelike smoking experience. It will feel like a real cigarette!

Superb Quality:

The ProSmoke e-cigarette quality is beyond par. Everything about it down to the last detail is excellent. It works amazing, it's lightweight but it's solid. It is engineered to perfection and everything fits together perfectly like a puzzle.
Exclusive Portable Charging Case
This is a must have accessory for people on the go! Charge your batteries without having to worry about cables or being by a computer or power outet.
The ProSmoke portable charging case is smaller than the competition, holds more and lasts longer! It can hold 4 cartridges or atomizers and 1 battery and 1 completely assembled ProSmoke e-cigarette; Giving you all the stuff you need to keep your ProSmoke electronic cigarette charged for long trips and adventures! The carrying case has its own internal battery that can charge your ProSmoke cigarette on the go with NO WIRES! You can get 10-15 battery charges before having to recharge the case with its built in USB connector. If you "smoke" a lot or like to have a charger on the go, this accessory is for you.
Long Lasting Cartridges with Vegetable based liquids, not the formula our competition uses:

The ProSmoke e-cigarette cartridges last longer than any other e-cigarette in our class. We have almost doubled the capacity of a standard cartridge while keeping it the same size. If you are sick and tired of small cartridges, give ProSmoke a try, you won't regret it!

Hundreds of hours of research has gone into getting our solution perfect for our customers to ensure the best taste, safety, and consistency. Unlike most of our competitors, who use PG for the base of their solution, ProSmoke has opted to use VG; which we feel this ensures our customers are getting the absolute best e-cigarette solution on the market.
One of the best warranties on the market:

ProSmoke has a 12 month manufacturer's warranty! That's 365 days of warranty on the ProSmoke Electronic Cigarette; that's four times the typical smokeless cigarette.
ProSmoke is Rated the Number One
e-Cigarette for a reason:

With unsurpassed power in both its batteries and atomizers, the ProSmoke has been well established as the workhorse of the industry.

Combine that with a Portable Charging Case & four included packs of cartridges and that is equivalent to up to 30 packs of regular cigarettes and you have absolutely everything you need to start smoking electronic cigarettes today and carry them on the go!

What's an e-cig?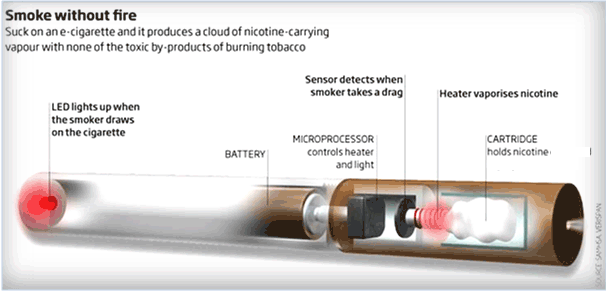 E-cigarettes are electronic devices that vaporize nicotine, water, and flavor to simulate the feel and look of cigarettes. Unlike nicotine gum or the nicotine patch, the e-cigarette actually functions much like a regular cigarette. However rather than burning and smoking, it vaporizes a solution that contains nicotine.
The nicotine is still delivered to the lungs, but in vapor form, rather than smoke which contains carcinogens and tar. ProSmoke E-cigarettes do not burn like a typical cigarette, yet feel the same and contain nicotine (optional).

Complete ProSmoke Electronic Cigarette, Components, and Accessories
QTY

2

Long-life lithium "smart" batteries

1

Atomizer

1

Portable Charging Case - Instructions for Personal charging case can be found

here

.


4

Flavored Cartridge Pack in the nicotine level and flavor of your choice! Each of the 4 packages includes 5 individual cartridges is equivalent of up to 30 packs of regular cigarettes!

1

U.S. Wall Charger

1

USB Charger

1

E-Cigarette Box

1

User Manual

Options
Two beautiful, long lasting, endurance-coated, color options are available of All Black or All White. These colors are electro-statically applied, unlike most of our competition whom just use an aerosol paint, so that we provide you that colors that not only look great, but will last with the heavy use our customers give it. With elevated temperatures, travel, and even dropping it, you can rest assured, you have a coating that will endure as long as you want it!
All kits have a blue LED giving you a sleek look while remaining comfortable and as familiar as a regular cigarette.

Cartridges with ColorID™

Along with all of the e-cigarette components and accessories, the Deluxe Starter Kit comes with Four complete Cartridge Packs in the Flavor and Nicotine Level of Your Choice!
Flavor Options

Awesome Apple

Very Cherry

Chocolate Indulgence

Coffee Jolt

Marvelous Menthol

Classic Tobacco

Vivid Vanilla

Variety Mix
Includes one cartridge of
Cherry, Coffee, Tobacco,
Menthol & Vanilla
ColorID™ Cartridges
ColorID™ is an industry exclusive, is used to keep your cartridges fresh as well as identify them when being carrying in a case, charger case, pocket or anywhere on the go! For those of you who are just getting started with electronics, this simply means that when you want to have multiple flavors with you and not carry a box for each one around, you can identify them quickly with a uniquely colored cork on each cartridge so it not only keeps your cartridges fresh longer, but lets you identify the flavor with a quick glance to satisfy those wanting taste buds! Learn more by clicking here.
ProSmoke is Rated the Number One
e-Cigarette for a reason:

With unsurpassed power in both its batteries and atomizers, the ProSmoke has been well established as the workhorse of the industry.

Combine that with a Portable Charging Case & four included packs of cartridges and that is equivalent to up to 30 packs of regular cigarettes and you have absolutely everything you need to start smoking electronic cigarettes today and carry them on the go!






Total Average Customer Rating (Based on 105 Reviews)
not happy
"
It worked out fine in the beginning but now all it does is blink the blue light at the end of the e cigarette and I cannot get it to smoke anymore. I charged both cartridges but nothing helps and can't figure out the directions to charge the batteries so I am hoping someone can tell me what the heck is going on, what am I doing wrong or is it broken. It works great but just cant figure this out! Thank you
"
Great Buy
"
I am shocked how long the battery and cartridges last. They taste good too! Gotta get used to veg glycerin taste though. I don't cook with any oils.
"
all products i have ordered
"
I really do like the prosmoke the best of all that I have tried. I also like the reward points and discounts you offer all the time. I have recommended prosmoke to many of my friends and family also. thank you for having a great product to offer/
"
ProSmoke
"
This is the best of all the electronic cigarettes I've tried; it really simulates smoking a real cigarette.
"
First experience
"
This is my first experience with my own e-cigarette or "vaporizer" and I could not be happier. I hear horror stories about issues people have but I have always had great luck with prosmoke. They ship within hours for every single order made and always have coupons and specials. its awesome!
"
last
"
last kit I need to try. Definitely the best out.
"
Great
"
Love prosmoke. Have been smoke free for 1 1/2 yrs and have gone from high nicotine to medium nicotine with no problem. Classic tobacco is great and just tried the vanilla which is my treat for myself. Customer service is top notch. The smoke/ drink association has changed. Now I prefer to ecig and drink water which has helped to shed some weight as well. Keep up the good work!
"
Better Product
"
I haven't found anything that can compare to the vapor unless I go to a HUGE vaporizer. 10 stars!
"
not a good review?
"
Ill be honest, I saw some mixed reviews after I made the purchase and was ready to return it and give it a bad review right away. I was 100% wrong. This thing could not be more amazing. Having smoked a real cigarette since it arrived and it works flawlessly. Im beginning to think the bad reviews I saw were competitors or people who have no idea how to use an ecig! try passion fruit....way better than I thought it would be
"
pro smoke kity
"
Five stars very fast shipping. I love it will not go anywhere else
"