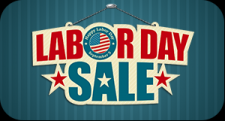 Celebrate All Your Hard Work With Special Savings On
All E-Cig & Vaporizer Products

We want to reward that hard work too by offering special savings for Labor Day on all products we sell! Labor Day is a time for you to celebrate everyone's hard work, including your own!

Did you ProSmoke is the first and only e-cig company to be certified by the Green Business Bureau? You can always feel comfortable buying from an environmentally responsible company

Use Coupon Code 'LaborPro16' to save
15% off ALL purchases
including starter kits, cartridges,
disposable e-cigarettes and accessories.

Expires September 12th.
Click here to start shopping.

New Products, New Flavors, New Performance

We continue to expand our product line with innovative products, flavors and accessories.

Check out our new disposables, and start shopping today!
Friday, 02 September 2016