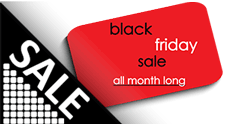 If you are still waiting for the weekend sales, you are just wasting time.

Beat the Rush! Black Friday Prices Are Available Now!

E-Cigarette users favorite sales are always the day after Thanksgiving, a.k.a. Black Friday. This year ProSmoke is helping you avoid that wait and giving you Black Friday Specials immediately, with absolutely no wait, free shipping* and big discounts.

There is no better time to buy yourself or your loved ones some award winning e-cigarettes and accessories from ProSmoke! Avoid the big crowds and long lines this weekend and pick up your e-cig products right away.

Save 25% off all purchases with coupon code
BLACK25.

No matter what you are buying, take advantage of these Black Friday prices right away!


Free Shipping, Best Warranty, #1 Rated Products & Green Certified!

We now offer free shipping on all domestic orders over $100. There is no code needed and nothing extra to do; Just put the products in your cart and get free shipping automatically if over $100.00.




Not applicable to previous purchases. No exceptions whatsoever. Limited to one coupon per customer. Coupons cannot be combined and are limited to one per purchase.

ProSmoke Electronic Cigarette
TM 2014 ProSmoke. All rights reserved.
Wednesday, 26 November 2014