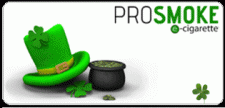 Hi #name#. It is cold outside, so here is what you have been looking for!
You have received this email because you signed up on our website. Unsubscribing is as easy as clicking the link on right.
- Unsubscribe





Just like no luck was needed to get ProSmoke recognized by CBS News as the Industry Standard for electronic cigarettes. It was all hard work, innovation, and incredible product that just got ProSmoke recognized by CBS News as the Best E-Cigarette company on the market!

To celebrate, we are extending our St. Patricks Day coupons until September 21st! Head to the site to save now on every purchase!

Use Coupon Code Lucky14 to save 10% off ALL purchases including starter kits, cartridges, dispoable e-cigarettes and accessories. Expires March 21st.

New Products, New Flavors, New Performance

We continue to expand our product line with innovative products, flavors and accessories.

Check out our new disposables, and start shopping today!
Sunday, 16 March 2014