Why to buy ProSmoke
#1 Rated Product
No tar or carbon monoxide
We use VG base NOT PG
Up to 80% Savings vs. cigs
Longest lasting cartridges
No Smoke Only Vapor
Most vapor in the industry
Best Customer Service
Located in the U.S.A.
Best tasting flavors

ProSmoke For the Cure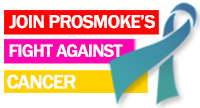 ProSmoke is proud to be a monthly contributor to multiple Cancer Charities.
Contributions are used for research and finding the cure. Get involved today!

Company Certifications

Green Certified Business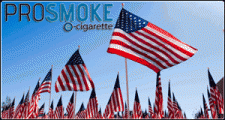 | | |
| --- | --- |
| Month Long Memorial Day Savings from the #1 Rated ProSmoke E-cigs | May 2013 |

To offer big savings for those who honor and celebrate Memorial Day, ProSmoke is offering special coupons for 10% ALL purchases until June 3rd!
Whether you are buying a gift, your own award winning e-cigarette Starter Kit, or stocking up on cartridges, you save on every single item and stock up for summer! We also have new ProSmoke accessories!
Be sure to check out our newest customer reviews on the e-cigarette customer reviews page and see how we stack up against the latest competition.
In celebration of Memorial Day, were giving 10% off every single purchase in our online store. Start saving today and get ready to enjoy our #1 rated e-smoke in some great summer weather.


Get 10% off ALL purchases until June 3rd! This includes kits, disposables, cartridges and accessories.

Use Coupon Code CigMay13
New Flavors & Exclusive ColorID™

Get red, white, blue and more with our new ColorID™ cork system that lets you keep your cartridges fresh longer and identify them in and outside of the box!

Perfect for our new Awesome Apple and Variety Flavor Packs!


Watch e-cig comparison vid reviews!

New customers are constantly sharing their experience with other via Youtube and other websites.

You can see what real customers think about ProSmoke and how we compare to other brands.
Award Winning Deluxe Starter Kit

$109.99 USD

Try our updated and Bold Coffee Jolt

$9.99 USD

The Industry's Best Portable Charger

$19.99 USD

Brand New Awesome Apple is sure to please the craving!

$9.99 USD

Keep your e-cig safe on the go with a Portable Case

$12.99 USD

5 different flavors in our new variety pack w/ ColorID™

$9.99 USD
ProSmoke Electronic Cigarette
W: www.ProSmokeStore.com
© 2013 ProSmoke. All rights reserved.

Not applicable to previous purchases. No exceptions whatsoever. Limited to one coupon per customer. Coupons cannot be combined and are limited to one per purchase.

You are currently signed up to ProSmoke's newsletter. To update your subscription preferences log in and Click Here.



Monday, 20 May 2013



WARNING: This product is intended for use by persons of legal smoking age, and not by children, women who are pregnant or breast feeding, or persons with or at risk of heart disease, high blood pressure, diabetes, or taking medicine for depression or asthma. If you have a demonstrated allergy or sensitivity to nicotine or any combination of inhalants, consult your physician before using this product. This product is sold purely for recreational purposes - it is not a smoking cessation product and has not been tested as such. You must be over the legal age in your state to buy or use this product.

Nicotine is highly addictive and habit forming. Keep out of reach of children. This product contains Nicotine, a chemical known to the state of California (Proposition 65) to cause birth defects or other reproductive harm. No statements made on this site have been evaluated by the Food and Drug Administration. This product is used at ones own risk and is not intended to diagnose, treat, cure, or prevent any disease.