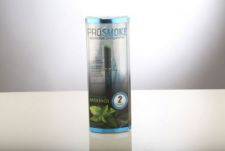 ProSmoke E-Cigarettes Now Available in Convenient Disposable Electronic Cigarettes
Chicago, IL – February 6, 2013 – ProSmoke Electronic Cigarettes, the industry leading tobacco alternative, has introduced new Disposable Electronic Cigarettes to their lineup of the best electronic cigarette products on the market.
Not only do ProSmoke Disposable Electronic Cigarettes last longer than the competition, but they usually cost less. In addition to providing a more realistic smoking experience and tasting better than other e-cigarette brands available, ProSmoke gives customers the option to choose from two delicious flavors or save even more money with bundled packs.
"If you are looking to try electronic cigarettes for the first time or you want an easy alternative to buying a pack of regular cigarettes, then the ProSmoke Disposable Electronic Cigarette is for you. If you are on the edge, trying to decide if electronic cigarettes would be a successful tobacco alternative for you, this is the perfect place to start," said a ProSmoke representative. "The ProSmoke Disposable e-cig makes your transition to e-cigarettes easy."
The new ProSmoke Disposable Electronic Cigarette is equal to about two packs of traditional cigarettes, and features a real cigarette taste – tobacco flavor and menthol flavor – that will keep users smoking the tobacco alternative every day. The Disposable e-cigarette option comes in a sturdy one-piece design and the soft tip and filter on the disposable e-cig give users the most realistic cigarette feeling available.
"The ProSmoke Disposable Electronic Cigarette is the best quality electronic cigarette on the market and we have the market data to prove it!" said the ProSmoke representative. "They last longer than the competition, have more flavor options, are more realistic, and generally cost less too. You can't beat our disposable electronic cigarettes!"
In addition to offering the best electronic cigarettes and disposable e-cigarettes on the market, ProSmoke Electronic Cigarettes is the only company in its industry certified by Green America. They have one of the largest certified facilities in the industry and all of their product are assembled and tested in the U.S. with the strictest certifications.
To try the new, long-lasting disposable electronic cigarettes from ProSmoke Electronic Cigarettes, visit www.prosmokestore.com.
About ProSmokeStore.com:
ProSmoke Electronic Cigarettes, found online at ProSmokeStore.com, is a United States-based electronic cigarette store. Their team has utilized their extensive experience in the industry to innovate and provide their award-winning electronic cigarettes, electronic cigarette flavored cartridges, and electronic cigarette starter kits that continue to set the standard for the industry.
Wednesday, 06 February 2013