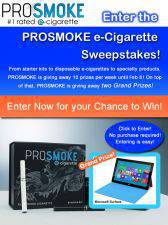 January 8, 2013—Chicago, IL—To kickoff CES 2013, the largest consumer electronics industry show in the world, ProSmoke, the #1 rated e-cigarette, is announcing an onlineSweepstakes featuring the most advanced technology in specialty products like electronic cigarette starter kits and disposable electronic cigarettes. ProSmoke is offering 10 prizes per week, a second prize of a Microsoft Surface RT, and a grand prize of the highly anticipatedMicrosoft Surface Pro.
ProSmoke manufactures e-cigarettes in a three piece design that produces the most vapor of any mini cigarette on the market. ProSmoke has locations for manufacturing, testing, distribution, and headquarters in Chicago, Illinois. This American company adheres to strictest certifications and comes with a 30 day satisfaction guarantee. As the only certified Green American Business in the electronic cigarette industry, ProSmoke is proud to offer the best quality electronic cigarette to customers around the nation.
This online sweepstakes has great prizes every day and two amazing grand prizes. It features electronic cigarette starter kits given away almost every day. This kit includes long lasting batteries and electronic cigarette cartridges, with enough vapor to last the equivalent of up to 8 packs of regular cigarettes. The low resistance atomizer lasts longer than other cigarette brands, and will actually add warmth to the vapor for a smoking experience that feels like a real cigarette.
The second prize in the sweepstakes is a Microsoft Surface RT. This tablet is an ideal companion to a PC that allows users great flexibility. From reading the Wall Street Journal to listening to music and playing games, the Microsoft Surface RT gives users the perfect balance of work and play.
The grand prize for the ProSmoke sweepstakes is a Microsoft Surface Pro. The unreleased touch-enhanced tablet features Windows 8 and can run applications just as smoothly on this mobile tablet as they would on a desktop, allowing for more mobility and portability. This powerful tablet can allow users to do everything previously reserved for a desktop unit on a more mobile and streamlined device. It weighs less than 2 pounds, and is only 13.5 millimeters thin. As a tablet that is light, beautifully designed, and fully functional, the grand prize winner is sure to be pleased with this prize and can enter to win now before its even available to the public.
Facebook users can "like" the ProSmoke page for a chance to win one of these prizes and find even more ways to enter here.
CLICK HERE FOR MORE INFORMATION AND TO ENTER
About ProSmoke:
ProSmoke's dedicated team of researches has extensive experience, manufacturing, selling, and marketing. This ensures customers receive the best product possible with superior customer service. ProSmoke is dedicated to providing customers with the best e-cigarette on the market. For more information, please visit https://www.prosmokestore.com.
Wednesday, 09 January 2013