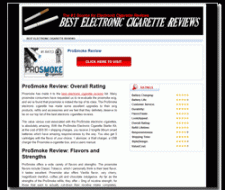 ProSmoke continues to be recognized by the Industry as the top performer.
BestElectronicCigaretteReviews.net is "The #1 source for Electronic Cigarette Reviews" and is proud to have reviewed the ProSmoke Electronic Cigarette. With an almost perfect review they state the ProSmoke is "Top of the Class" and "Deserves to be at the top of the list!"
They love the low costs and high value, our realistic Tobacco flavor and the industry's best build quality and battery responsiveness. They say its "a perfect design!"
Here is a snippet of their comprehensive review. To view the full review, please check out there site by clicking here.
Overall, the quality of the ProSmoke electronic cigarette seems to be perfect in design. We've tested the product thoroughly before doing our Prosmoke reviews for a few weeks, and we haven't found a single problem with the ProSmoke electronic cigarette, nor have we heard anything negative from the panel of consumers that we have had to review the ProSmoke products







For more official ProSmoke reviews click here!
Thursday, 16 June 2011