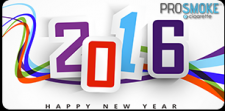 Save BIG in January With Our New Years Resolution Coupons!

Did you resolve to quit smoking cigarettes in 2016 and think electronic cigarettes might be the solution? Think again! E-cigarettes are not a quit smoking device and are not sold as a smoking cessation tool.

Starting today, ProSmoke Electronic Cigarettes is giving the industry's biggest savings on every single purchase you make. We are also giving FREE PRODUCTS to all purchases that include one of our award winning Electronic Cigarette Starter Kits or is over $100.00!

Although electronic cigarettes are not a quit smoking device, you can stay true to your New Years Resoltuion by simply switching to e-cigs as a tobacco alternative and stay true to your promise in 2016!

Here are some great reasons why people switch from regular cigarettes to e-cigarettes:

You will save money.
You no longer have to stand outside in the cold to smoke while your friends are inside (Where permitted).
You'll have a whiter smile.
You won't smell like smoke all the time.
You can get off to a great start in 2016!




The Holiday Sale Starts Now And Goes Until The End of January!

Get 20% off all products until 1/31

Use Coupon code 'New2016' to save on all purchases now. Free cartridges are included with all starter kit purchases and orders over $100

ProSmoke Is The First & Only Green Certified Company

ProSmoke is excited to be the first & only electronic vapor company in the industry that has been certified by the Green Business Bureau as a Green American Business. This certification exemplifies our dedication to being the top company in the market while continuing to provide the best products.
Wednesday, 30 December 2015