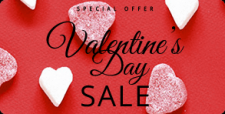 Find sweet deals on all e-cigarette and vaporizer purchases!

It is that time of year where you can show your love for someone special. Whether you are treating yourself to a gift or buying something for that special someone

You will save money.
You'll have a whiter smile.
You no longer have to stand outside in the cold to smoke while your friends are inside (Where permitted).
You won't smell like smoke all the time.




The Sale Starts Now And Goes Until February 15th!

Get 15% off all purchases

Use Coupon code 'Love18' to save on all purchases now.

ProSmoke Is The First & Only Green Certified Company

ProSmoke is excited to be the first & only electronic vapor company in the industry that has been certified by the Green Business Bureau as a Green American Business. This certification exemplifies our dedication to being the top company in the market while continuing to provide the best products.
Saturday, 03 February 2018