The ProSmoke Disposable E-Cigarette Magnificent Menthol 4-Pack Bundle is The Best Way To Get Started With The New #1 Selling Disposable E-cig!

For smokers who like to save money or if you are a cigarette smoker and want to try disposable e-cigarettes as a Menthol cigarette or Tobacco alternative, it's just time to try electronic cigarettes and save by starting with a Bundle Pack! Our Menthol flavored disposable e-cigarettes are an easy alternative to buying 8 PACKS of regular cigarettes and is absolutely the best quality e-cigarette on the market. Not only do our Tobacco disposable e-cigarettes last longer than the competition, but they cost less than regular cigarettes. You get 4 Disposable E-cigs which is equivalent to 8 total packs of regular cigarettes.
In addition to providing a more realistic smoking experience and tasting better than other e-cigarettes brands available, ProSmoke offers the most satisfying Menthol flavor so that you can enjoy a similar smoking experience without all the tar, carbon monoxide, or any foul odors. If you smoke regular Tobacco cigarettes in Menthol and are trying to decide if electronic cigarettes are for you, this is ta great bargain. Our disposable Menthol flavored e-cigarettes have so much in common with our award winning electronic cigarette starter kits, built in to a simple package you can with no fuss.

Our Menthol 4-Pack Bundled ProSmoke Disposable Electronic Cigarettes Feature
Cool Menthol flavor that customers have come to expect from the regular menthol cigarettes they smoke every day.

Equal to about EIGHT packs of traditional cigarettes. The ProSmoke disposable e-cigs make the perfect substitute to a regular pack of cigarettes.

Make your purchase and take it with you on the road. You do not need a lighter and it is ready when you are!

ColorID helps e-cigarette users know which flavor they are smoking just by looking at the filter color.

Real cigarette taste will keep you smoking electronics as a tobacco alternative every day!

ProSmoke is the only company Certified by Green America in the industry

Sturdy one-piece construction with no parts to break.

Holographic seal ensures your product is sealed and fresh for YOU to start smoking right away

Soft Tip and Filter give you the most realistic cigarette feeling available

Thousands of hours have gone into developing the smart battery and smoking experience just to ensure customers don't have to give up anything to enjoy an e-cigarette from ProSmoke.
What's a Disposable?

Disposable E-cigarettes are electronic devices that vaporize nicotine, water, and flavor to simulate the feel and look of cigarettes. Unlike nicotine gum or the nicotine patch, the e-cigarette actually functions much like a regular cigarette. However rather than burning and smoking, it vaporizes a solution that contains nicotine. The nicotine is still delivered to the body, but in vapor form, rather than smoke which contains tar, bad odors, and carbon monoxide. ProSmoke Disposable E-cigarettes do not burn like a typical cigarette, yet feel the same and contain nicotine.

Our Disposable Electronic Cigarette require no assembly and do not need recharging. ProSmoke Disposables are the ideal choice for first time electronic cigarette users that want to try them out before purchasing a full e-cigarette starter kit or those who want to simply pick up a disposable instead of a regular package of cigarettes. Since our disposable is equivalent to TWO packs of traditional cigarettes, this highly portable and easy soluion for smokers, is the right choice for anyone looking to pick up a disposable e-smoke today!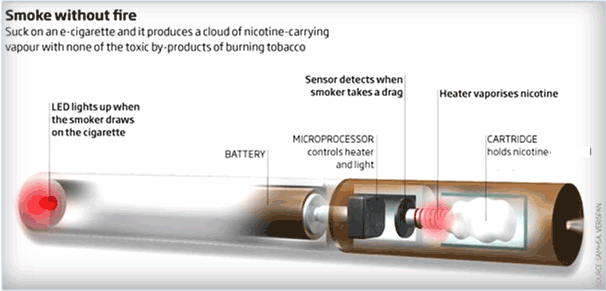 Take a step in improving your habit as thousands of our customers already have!
Have more questions? Check out our highly informative FAQ!

4 - Disposable Electronic Cigarettes
All Magnificent Menthol Flavor
ColorID soft tip/filter is Green color for Menthol
Color is Black
LED battery tip glows blue during inhalation
1.8% Nicotine by Volume for each individual disposable e-cigarette. Equivalent to a level between Medium and High in our Traditional E-cigarette product.
Vegetable based e-liquid (Please note some flavorings will include minor amounts of PG for a more robust flavor and to serve as a preservative in retail envoirnemnts to keep your product fresh!)
Each individual cigarette is equivalent to about 2 packs of regular cigarettes!
*Retail Packaging Might Differ From Photos





4.8182 11 11 Total Average Customer Rating (Based on 11 Reviews)
Menthol Disposable
"
The taste is so much like a real cigarette. Very good quality. I enjoy it very much.
"
The only ecigg I will have
"
Almost three years ago I quit smoking. At that time I went on a quest to find the best ecigg available. I tried dozens before fully committing to ProSmoke. I want comfort, flavor, ease of use, and value. With my disposable eciggs I get all that and more. They are discrete and easy to use; just pull them out of the package and they are ready to go. Heck, I have even used one at an airport during a looking layover. I love my ProSmoke eciggs.
"
I have tried the others...
"
Excellent product. I am on day 75 of no cigarettes, and the disposable e cigs are getting me through. I am not choosing to give up nicotine; just smoking. I tried ever other soft tip ecig and this is currently the most cost effective and has the most realistic cigarette feel. I only wish I could buy in bulk, as I have already decided to purchase several months worth.
"
very impressed
"
This is hands down the most enjoyable ecig i have ever tried. Njoy and mark10 are friggen junk compared to this. last so much longer, tastes better and more realistic. NOt that it matters but the packaging is also so much better and earth friendly.
"
BEST DISPOSABLE EVER
"
If you are like me and don't want to use a kit just cause they are a hassle, this should be your choice. It is simply the best vaping experience of any e-cigarette I have tried
"
Good Flavor and Vapor
"
I recently purchased several disposable bundle packs of the menthol. I really like the ProSmoke brand best so far. The flavor is good and the vapor is great....
"
Really Impressed
"
After buying 5 different disposable brands, this one is the one I decided on. I ended up getting the battery one and have been very pleased. The disposable has a soft filter, and although the nicotine level is not stated, it was as satisfying as a regular smoke. The vapor was amazing. I hope to quit regular cigs, and this is certainly a good way to begin.
"
I LOVE my disposables
"
Both my husband and I are smokers, so when we bought a new pickup in January that had NEVER been smoked in, we knew we had to alter our smoking habits a bit. We had already been using the ProSmoke E-Cigarettes but thought the disposables might be easier while in the new truck. We keep 1 disposable on our person, 1 in each vehicle, 1 in our new (also never smoked in) travel trailer and 1 in the bedroom. Now there is No Excuse for us to light up in restricted areas LOL. The disposables are soooooooo convenient, just open the package and puff away! For some reason I actually think the flavor on my menthol disposable is better than my ProSmoke E-Cigarette. I don't know that they actually last me as long as 2 packages of regular cigarettes but they are so much cleaner, more convenient and even have a better flavor than my regular brand. I do wish they weren't so expensive though.
"