This is a must have accessory for people on the go! Charge your batteries without having to worry about cables or being by a computer or power outet.
The ProSmoke portable charging case is smaller than the competition, holds more and lasts longer! It can hold 4 cartridges or atomizers and 1 battery and 1 completely assembled ProSmoke e-cigarette; Giving you all the stuff you need to keep your ProSmoke electronic cigarette charged for long trips and adventures!
The carrying case has its own internal battery that can charge your ProSmoke cigarette on the go with NO WIRES! You can get 5 - 10 battery charges before having to recharge the case with its built in USB connector. If you "smoke" a lot or like to have a charger on the go, this accessory is for you.
The Portable charging case currently has instructions online via our site. To see those, please click here!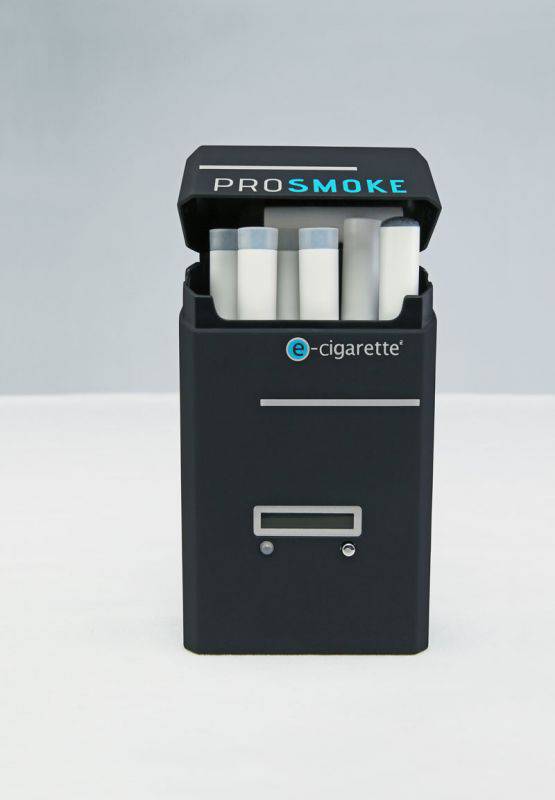 1 ProSmoke Portable Charging case and compatible USB cable.
Instructions for Personal charging case can be found here.





Total Average Customer Rating(Based on 12 Reviews)
Prefect One
"
Electronic cigarette brands just made it easy for me to carry it anywhere and I can enjoy every puff without waiting for long time to recharge the battery again.
"
get it
"
very nice accessory to have
"
Personal Charger Case is Awesome
"
I ordered the personal charger when they were finishing the product and it was very much worth the wait. I love my personal charger and carry it everyday. You are able to get several cartrige charges from a single case charge. It is awesome.
"
TAKE CHARGE!
"
When you place your order with ProSmoke for the first time OR if you're a current customer, be sure to order this amazing Personal Charger Case. I LOVE this case! Not only is it convenient to carry your ecig in, but you will never be without a charge again. I just make sure that I charge it at home in the evening, and the charge will last a couple of days or more. That way, no matter where I am, I always have a safe place for my ProSmoke cigarette, plus the convenience of portable charging AND some extra cartridges. This is a very worthwhile accessory!
"
Fantastic
"
Absolutely needed this, kept losing the little bits carrying them round on their own, and great to be able to see charge levels with it as well
"
Great product but..
"
I do like this product so that I can keep my Prosmoke cartridges and batteries in a nice compact design that is sturdy and protects my investment.
"
Must have accessory
"
This is a must have accessory for eveyone. Apart from having a great design and look, you are almost never out of a charge. Great gadget, fully recommend it.
"
I love this case
"
I love this charging case, I have used it several times, and it's such a time saver as mentioned by others here. I take it with me everywhere I go same as I used to carry a pack of smokes. Actually it's part of the security blanket if you will, just having a pack on me used to make me feel secure, knowing I had my smokes handy if I wanted one and after quitting, I carried a lighter with me just to feel secure or just in case I fell back onto the habit. Its nice that this thing can charge up several times without wires or any other charger device. I prefer it to a car charger even...
"
buy this
"
I always forget to bring my charger so this is great to have on the go. Its matte black finish is totaly durable and I can carry everything I need with it like cartridges or atomizers and charge my batteries about 14 times before having to charge the case again. I would recommnd this to anyone
"
PERFECT
"
This is the ultimate accessory. I am a service tech who drives alot and this case is the perfect solution for vaping on the go! Take your extra battery.... and its charging while you are vaping on the other battery! Holds 4 cartridges...plenty for an 8 hour day! I highly reccomend this little baby!!
"