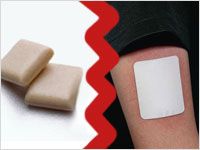 SOURCE: http://www.cspnet.com/category-management-news-data/tobacco-news-data/articles/study-electronic-cigarettes-more-effective
A study at a university in London has pronounced that electronic cigarettes are noticeably much more effective in terminating the use of regular cigarettes compared to traditional nicotine replacement therapies such as gum and patches. The study took into consideration the age, social status, level of nicotine intake, and the length of time that around 6,000 people tried to quit.
Even as the study states that electronic cigarettes are more effective than NRT's, Robert West, director of tobacco studies and the study's senior author at University College London, claims that "The medical model is great for cancer drugs, but it doesn't really work for this situation because there's nothing to stop participants in the patches group from just going out and buying an e-cigarette."
Researchers then surveyed 5,863 smokers that attempted to quit smoking without professional help between 2009 and 2014, discovering that smokers that used electronic cigarettes were 60% more likely to quit smoking than those who used nicotine patches or gum.
Even as West knows that it would take decades of gathering enough information to determine the long-term effects of electronic cigarettes, however he argued that the way electronic cigarettes are going to be handled must have policies as soon as possible. He concluded by saying there already is enough scientific evidence that vaping is less risky compared to smoking.
The study is pro-electronic cigarettes, funded by the nonprofit group Cancer Research UK, England's Health Department, and other drug companies that manufacture NRT's.
Thomas J. Glynn, a researcher at the American Cancer Society, told The New York Times "This will not settle the e-cigarette issue by any means… But it is further evidence that, in a real-world context, e-cigarettes can be a useful, although not revolutionary, took in helping some smokers stop."
Electronic cigarettes have come a long way in shaping the way smokers attempt to quit by being successful in ending smoking compared to NRT's.
Thursday, 29 May 2014