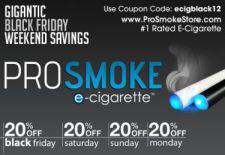 ProSmoke Electronic Cigarettes Offers 20% off EVERYTHING for Black Friday and Cyber Monday
Save big on #1-rated ProSmoke e-cigarettes all weekend long from Black Friday to Cyber Monday, with the biggest savings available all year.
Chicago, IL – November 20, 2012 – If you have ever considered switching to cigarettes as a Tobacco Alternative to traditional cigarettes, there is no better time to make the switch than now! Starting this Black Friday, November 23, ProSmoke Electronic Cigarettes, the industry leading producer of electronic cigarettes, is giving the industry's biggest savings on every single purchase made until Monday night.
"Whether you are purchasing an award winning electronic cigarette starter kit, accessories like our exclusive charging pack, or simply stocking up on e-cigarette cartridges, now is the time to buy!" said a ProSmoke representative. "Avoid the long lines, cold weather, and crazy shoppers, and receive huge savings immediately at prosmokestore.com!"
Recently awarded approval by Green America as the only Certified Green American Business in the industry, ProSmoke Electronic Cigarettes' advanced three-piece design produces the most vapor of any mini cigarette in the industry, lasts the longest, and tastes the best. Unlike most other electronic cigarette systems, ProSmoke's replacement electronic cigarette flavored cartridges use a vegetable based solution (VG) instead of Propylene Glycol (PG). VG is a solution that gives off more vapor and is less harsh on the throat.
ProSmoke also has many great accessories for their e-cigarettes, from their car chargers to their exclusive ProSmoke portable charging case that can charge cigarettes on the go with no wires and give storage for all your cartridges and accessories on the road. It is smaller than the competition, holds more and lasts longer!
"We give you all the stuff you need to keep your ProSmoke electronic cigarette by your side and ready!" said the ProSmoke representative. "And with flavors like Very Cherry, and Magnificent Menthol, to the always enjoyable Classic Tobacco, our e-cigarette cartridges ensure the best smoking experience possible."
Save 20% off everything from prosmokestore.com this Black Friday through Cyber Monday – from their standard to their Deluxe e-cigarette Starter Kit to all e-cigarette cartridges of every flavor and all accessories – using the coupon code ecigblack12.
To save now on the leading e-cigarettes, cartridges, and electronic cigarette accessories in the industry, visit www.prosmokestore.com.
About ProSmokeStore.com:
ProSmoke Electronic Cigarettes, found online at ProSmokeStore.com, is a United States-based electronic cigarette store established by a unique team of researchers, developers and business experts. Headquartered in Chicago, their team has utilized their extensive experience in the industry to innovate and provide their award-winning electronic cigarettes, cartridges, and e-cigarette starter kit options that continue to set the standard for the industry.
Please note coupons cannot be applied towards previous purchases. No exceptions.
Tuesday, 20 November 2012