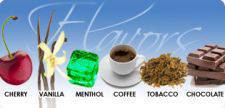 ProSmoke Electronic Cigarettes (ProSmokeStore.com) Introduces ColorID™ System with New Cartridge Design/Flavors
Chicago, IL – July 24, 2012 – ProSmoke Electronic Cigarettes, the industry leading e-cigarette system, is pleased to introduce their ColorID™ System, an industry exclusive feature that identifies e-cigarette cartridges on the outside of the cartridge pack with a uniquely colored cork for each flavor.
"The ProSmoke ColorID™ System not only keeps your e-cigarette flavored cartridges fresh longer, but is the only electronic cigarette that lets you identify each of the electronic cigarettes' flavors with a quick glance to satisfy those wanting taste buds," said a ProSmoke e-cigarette store representative.
ProSmoke electronic cigarette flavored cartridges come in Classic Tobacco flavor (blue), as well as the following flavors guaranteed to satisfy any taste buds:
· Awesome Apple (light green)
· Very Cherry (red)
· Chocolate Indulgence (brown)
· Coffee Jolt (tan)
· Marvelous Menthol (green)
· Vivid Vanilla (white)
ProSmoke also offers a popular variety flavored cartridge pack which comes with one cartridge each of Very Cherry, Coffee Jolt, Marvelous Menthol, Vivid Vanilla and Classic Tobacco flavors. Additionally, mix and match cartridge packs are available in sets of four or eight cartridges. These allow shoppers to choose any four or eight cartridge packs in the flavor and nicotine level of their choice at a significantly discounted rate.
ProSmoke's advanced three-piece design produces the most vapor of any mini cigarette in the industry, lasts the longest, and tastes the best. Unlike most other electronic cigarette systems, ProSmoke's replacement electronic cigarette flavored cartridges use a vegetable based solution (VG) instead of Propylene Glycol . VG is a solution that gives off more vapor and is less harsh on the throat.
"Hundreds of hours of research have gone into getting our solution right for our clients' taste buds and for their peace of mind," said the ProSmoke representative. "Pick up your ProSmoke electronic cigarette flavored cartridges today and check out some of our great new flavors! We stand behind the quality of our product and guarantee it for a period of one year from the original purchase date."
For more information on the ProSmoke ColorID™ System, visit www.prosmokestore.com.
About ProSmokeStore.com:
ProSmoke Electronic Cigarettes, found online at ProSmokeStore.com, is a United States-based electronic cigarette store established by a unique team of researchers, developers and business experts. Headquartered in Chicago, their team has utilized their extensive experience in the industry to innovate and provide their award-winning electronic cigarettes, cartridges, and e-cigarette starter kit options that continue to set the standard for the industry.
Contact:
ProSmokeStore.com
Wednesday, 01 August 2012