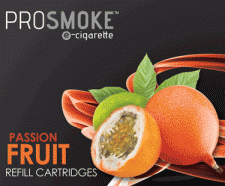 ProSmoke Electronic Cigarettes Announces New Passion Fruit Electronic Cigarette Cartridges
Chicago, IL – January 15, 2013 – ProSmoke electronic cigarettes, the industry leading tobacco alternative, is pleased to announce they have added new Passion Fruit electronic cigarette cartridges to its already astounding line of flavored electronic cigarette cartridges.
Joining other amazing flavors such as Classic Tobacco, Marvelous Menthol, Very Cherry, Coffee Jolt, Vivid Vanilla, and Awesome Apple, the new Passion Fruit electronic cigarette cartridges are the perfect choice for something unique and delicious. They are available for use with the ProSmoke three-piece electronic cigarette in varying levels of nicotine ranging from None (0mg) to Super Extra High (28mg).
"Customers can't stop sharing how much they love the Passion Fruit flavor. You can truly let your taste buds escape to an exotic place with our Passion Fruit flavored electronic cigarette cartridges!" said a ProSmoke Store representative. "These flavorful cartridges currently have the highest customer rating of five stars!"
Established by a unique team of researchers, developers and business experts, hundreds of hours of research have gone into getting the ProSmoke e-liquid solution perfect for customers to ensure the best taste, safety, vapor amount, longevity and consistency. Specially designed to create bigger vapor and last longer than any other electronic cigarette on the market, ProSmoke electronic cigarettes contain more product without adding any size to the cartridge itself. This allows for a longer life cartridge while still offering great airflow and a nice easy draw.
ProSmoke electronic cigarettes produce only water vapor – no real smoke – so they can be enjoyed inside the workplace, at restaurants, in the bar, and any other place tobacco cigarettes have been banned. Pro Smoke cartridges are made with Vegetable Glycerin, an alternative to Propylene Glycol which although is being used with success in the industry, has caused concern due to its use in product like radiator fluid and makeup, and also causing irritation and adverse allergic reactions in a small percentage of users.
For a limited time, use coupon code "SmokingResolution13" for 13% off all ProSmoke electronic cigarette starter kits or use coupon code "SmokingResolution135" for 5% off all flavored e-cigarette cartridges (expires January 20, 2013).
To save now on the leading e-cigarettes, cartridges, and accessories in the industry, visit www.prosmokestore.com. You can also "Like" ProSmoke on Facebook or follow ProSmoke on Twitter for more information.
About ProSmokeStore.com:
ProSmoke Electronic Cigarettes, found online at ProSmokeStore.com, is a United States-based electronic cigarette store. Their team has utilized their extensive experience in the industry to innovate and provide their award-winning electronic cigarettes, cartridges, and electronic cigarette starter kit options that continue to set the standard for the industry.
Contact:
ProSmokeStore.com
855-PROECIG
Friday, 21 December 2012