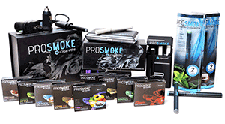 ProSmoke Electronic Cigarettes (ProSmokeStore.com) is Recognized in Chicago by CBS TV and Radio for Their Standard of Excellence
ProSmoke Electronic Cigarettes (ProSmokeStore.com) has revolutionized the electronic cigarette industry and set the standard for e-cigarette products available to smokers.
Chicago, IL – June 1, 2012 – Chicago-based company ProSmoke Electronic Cigarettes has been recognized for their standard of excellence by CBS TV and Radio Chicago. The privately owned and operated electronic cigarette company has been extremely successful in their industry as well as providing numerous employment opportunities for their local community.
Their new 40,000 square foot office, warehouse and manufacturing facility is located in the Chicago suburbs. The headquarters boasts an in-house workout facility and a healthy lunch café to promote the health and well-being of the company's employees.
As a provider of electronic cigarettes, or "e-cigarette" company, they aim to provide consumers with an alternative to traditional tobacco cigarettes and to promote the benefits of their tobacco alternative products. Their electronic cigarette is about the same size of a traditional cigarette but is composed of a rechargeable battery, an e-cigarette cartridge that contains the flavoring solution and nicotine level of the customer's choice, and an atomizer that heats up and vaporizes the liquid inside the cartridge. The result is a device that looks and feels like a cigarette but produces a scentless cloud of water vapor that looks, feels, and tastes like a real cigarette, yet does not have the tar, ash or known carcinogens of a regular cigarette. The ProSmoke e-cigarette can even be purchased with no nicotine.
The ProSmoke electronic cigarette uses vegetable-based organic liquids as its base instead of synthetic chemical compounds, such as Propylene Glycol, found in their competitors products. This liquid is vaporized, creating a big cloud of water vapor that looks like real smoke, but has no smell or second hand smoke, allowing it to be "smoked" almost everywhere regular cigarettes aren't allowed. Their customers enjoy the simulated smoking experience of an electronic cigarette that is void of the thousands of chemicals regular cigarettes are made with, yet still satisfies their nicotine cravings.
The ProSmoke E-Cigarette website offers a variety of electronic cigarette starter kits that come in a variety of flavor selections such as apple, cherry, chocolate, coffee, menthol, vanilla, and of course traditional tobacco. The kits start at $59.99 and the best part, in addition to the assumed health benefits of not ingesting the thousands of chemicals contained in regular cigarettes, is they are actually cheaper than regular cigarettes. In fact, the cartridges are about 60-70% cheaper than a pack of cigarettes.
As other electronic cigarette companies struggle to establish themselves in the industry and provide the in-stock quality product, service, and smoking experience of ProSmoke, ProSmoke Electronic Cigarettes has jumped to the front of the pack and seems to have set a standard that is hard to beat. They continue to expand their company globally and produce electronic cigarettes, e-cigarette cartridges, and e-cig accessories that exceed their customers' expectations and win honorable mentions through broadcasting networks like CBS TV and Radio in Chicago.
About ProSmokeStore.com:
ProSmoke Electronic Cigarettes, found online at ProSmokeStore.com, is a United States-based electronic cigarette company established by a unique team of researchers, developers and business experts. Headquartered in Chicago, their team has utilized their extensive experience in the industry to innovate and provide their award-winning electronic cigarette products that continue to set the standard for the industry
CBS Radio and TV Aticle can be viewed here.
Contact:
ProSmokeStore.com
8886409015
Friday, 01 June 2012