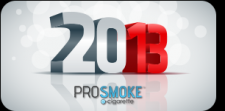 Quit Smoking Tobacco in 2013 – Switch to ProSmoke Electronic Cigarettes
Chicago, IL – January 2, 2013 – Did you resolve to quit smoking cigarettes in 2013? E-cigarettes are NOT a quit smoking device and have not been tested as such. Although not a quit smoking device, ProSmoke Electronic Cigarettes are the industry leading tobacco alternative. And now, you can switch to electronic cigarettes for even less with ProSmoke's New Year's Resolution coupons.
"Starting today, ProSmoke Electronic Cigarettes is giving the industry's biggest savings on every single purchase you make that includes one of our award-winning electronic cigarette starter kits or e-cigarette flavored cartridges," said a ProSmoke Store representative. "If you have ever considered switching to electronic cigarettes as an alternative to traditional cigarettes, ProSmoke is the best choice you can make!"
While every electronic cigarette company may claim to be "the best," ProSmoke has the credentials, awards, reviews and customers to prove it. ProSmoke is the first and only electronic cigarette company in the industry that is a Green Certified American Business. Additionally, ProSmoke uses vegetable-based e-liquid in their cartridges instead of Propylene Glycol, the main ingredient in most of their competitors' e-cigarettes.
ProSmoke's electronic cigarettes feature an advanced three-piece design that produces the most vapor of any mini cigarette in the industry. It also lasts the longest and tastes the best. ProSmoke electronic cigarette flavored cartridges come in a variety of flavors, including Classic Tobacco, Marvelous Menthol, Vivid Vanilla, Awesome Apple, Very Cherry, Chocolate Indulgence, Coffee Jolt and brand new Passion Fruit flavor.
"You can lead your taste buds on a delicious escape with our many different classic and exotic flavored electronic cigarettes," said the ProSmoke representative. "If you have a New Year's resolution that includes e-cigarettes, it should include ProSmoke and our incredible New Year's savings!"
For a limited time, use coupon code "SmokingResolution13" for 13% off all ProSmoke electronic cigarette starter kits or use coupon code "SmokingResolution135" for 5% off all flavored e-cigarette cartridges (expires January 20, 2013).
To save now on the leading e-cigarettes, cartridges, and electronic cigarette accessories in the industry, visit www.prosmokestore.com.
For more information on electronic cigarettes coupons, visit: https://www.prosmokestore.com/store/index.php?_a=viewBlog&blogId=103
About ProSmokeStore.com:
ProSmoke Electronic Cigarettes, found online at ProSmokeStore.com, is a United States-based electronic cigarette store established by a unique team of researchers, developers and business experts. Headquartered in Chicago, their team has utilized their extensive experience in the industry to innovate and provide their award-winning electronic cigarettes, cartridges, and e-cigarette starter kit options that continue to set the standard for the industry.
Wednesday, 02 January 2013