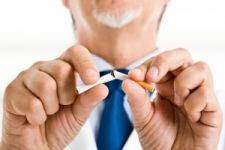 SOURCE: http://www.bostonglobe.com/lifestyle/health-wellness/2014/05/21/evidence-builds-that-cigarettes-help-smokers-quit/ECir3qXpjo4ZowUr0UQ14J/story.html
With the ongoing controversy of whether e-cigarettes are helpful or harmful, a recent British study shows that they help. Many people who oppose the use of electronic cigarettes see that it is the exact same as a traditional cigarette and cannot help smokers quit. However, the recent study was made and actually looked at smokers that have used e-cigs as their smoking alternative, compared to the March finding that e-cigs don't help which did not use any test subjects to prove their side.
From 2009 to 2014, the study surveyed 5,863 smokers that had spent years attempting to quit smoking using different products available to assist in giving up smoking all together. The study then came with the results that electronic cigarettes were 60 percent more likely to have helped the smokers the most compared to things such as gums, nicotine patches, or nothing at all. Another factor of the study had taken into consideration how much the smokers income level was, their nicotine dependence, and e-cigarette users.
Study author Dr. Jamie Brown, senior research associate at University College in London, says "This was a real-world observational study to see how well e-cigarettes work when used specifically to help people stop smoking… The trade-off is we cannot definitely rule out that an unmeasured factor may have influenced the result."
After Dr. Jamie Brown conducted a population study to determine how many users continued to use cigarettes after they started using electronic cigarettes, it was reported that approximately 20 percent of those that used the e-cigarettes stopped smoking regular cigarettes no more than 6 months after quitting.
"This finding suggests that there's a reason to be cautiously optimistic about the effects that e-cigarettes may be having on helping smokers quit," claimed Brown. Creating a placebo with e-cigarettes could be part of the reason why the craving to smoke is becoming easier for smokers to quick because they are mimicking the same behavior they would do with a regular cigarette.
The study did not use any prescription medications or professional help. Medication such as Chantix and Zyban are prescription medications and are more effective than over-the-counter aids, but there are no studies proving that it is any better than using e-cigarettes.
Electronic cigarettes will continue to aid smokers in reaching their goal in relieving themselves from smoking regular cigarettes more than any other aiding product available according to several studies and surveys.
Read more about the study here: http://onlinelibrary.wiley.com/doi/10.1111/add.12623/abstract
Thursday, 22 May 2014