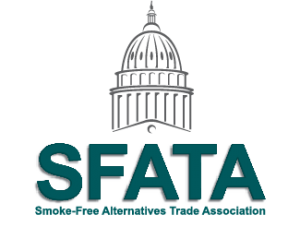 SOURCE: SFATA
SFATA Responds to Trump Administration Announcement - Declares It Will Not Sit Idly By

In an announcement made yesterday by the Trump Administration, (click here to read more) it was stated that:

"... as part of its ongoing work to tackle the epidemic of youth e-cigarette use, the FDA intends to finalize a compliance policy in the coming weeks that would prioritize the agency's enforcement of the premarket authorization requirements for non-tobacco-flavored e-cigarettes, including mint and menthol, clearing the market of unauthorized, non-tobacco-flavored e-cigarette products."

This came after weeks of media onslaught on the Lung Illness Outbreak, where vaping has been non-specifically, and incorrectly, named as the source of the illness, sending the vapor community -- our community -- into further upheaval. This has unnerved and upset the most stoic among us. Where we were outraged by the barrage of headlines blaming vapor for an illness the FDA itself has pinpointed to black-market contraband products as the root cause, the Trump Administration announcement has incensed us.

Below is a copy of a Press Release SFATA will be sending out in response to this atrocity, directly addressing the Trump Administration's concerns regarding youth usage.


Trump Administration proposal to Ban Flavored E-Cigarettes:
Deadly and Irresponsible for Public Health

September 12, 2019

President Donald Trump announced today that his administration is considering all options in addressing the recent rash of health scares from vaping.

These options include banning flavored e-cigs, which are the most effective smoking cessation and harm reduction product ever developed for smokers.

A study by the New England Journal of Medicine found that vapor products are nearly twice as effective at helping adults quit smoking than any other nicotine replacement method. Additionally, the Royal College of Physicians and Public Health England have reviewed all the peer-reviewed research and concluded that nicotine-vapor products are at least 95% safer than cigarettes.

While at a briefing at the White House, HHS Secretary Alex Azar said, "We will not stand idly by as these products become an on-ramp to combustible cigarettes or nicotine addiction for a generation of youth."

Preliminary data published by the CDC yesterday shows the following significant drop from 2011 to 2019: current (past 30 day) cigarette smoking went down 68% among high school students, reaching historically low smoking rates for our youth at 5.8% in 2019.

The above proves that Secretary Azar's statement that for teens electronic cigarette use is a gateway to combustible cigarettes is blatantly incorrect.

WE will not stand idly by, as this administration tries to take away the most effective tool smokers have to quit and save their lives. We don't know the exact course of action we will take yet; we are keeping all options at our disposal open, including litigation. We will defend our rights for access to safer alternatives to deadly cigarettes.

The Smoke-Free Alternatives Trade Association has been working with the FDA to address many of the issues, and there is a way to protect youth and keep lifesaving products available to adults at the same time.

Banning flavors would be a public health crisis as FDA funded studies show consumers without access to flavors would go back to smoking.

There are over 10,000,000 (10 million) adults, (over age 21) who vape or use E-cigs in the US who would look to the black market if they cannot make their purchases from the 15,000 entrepreneurial small businesses that would close without flavored products.

---

SFATA leadership has been in regular meetings to assess and address both the Lung Illness Outbreak and the Trump Administration's announcement and is moving forward as quickly as possible.

When the news broke yesterday, the vapor community (rightly) grew outraged. We are asking you – no, begging you – to turn off your emotions and spring into action.

It truly is NOW OR NEVER.

You can start by sharing the press release with your local media stations and on your social media outlets.

We will continue to update you on developments and progress.

Keep your heads held high and your sleeves rolled up!

With you in the trenches,




Mark Anton, SFATA Executive Director



April L. Meyers, SFATA Board President
Thursday, 12 September 2019